Guide To Online Blackjack Strategy
Learning the basic rules to play Blackjack online can seem a little daunting to new players at first, but players can very quickly pick the game up and have fun wither playing video Blackjack or one of the latest and fully immersive live Blackjack titles available.
Alongside the simple play and blackjack etiquette that adds to the gaming experience, blackjack is a game that can be directly influenced by knowing how to use a few strategies that are reasonably straightforward once mastered.
It's surprising that, having learned the rules of blackjack, breaking past this amateur stage and getting truly strategic with your play is less common, however, and the vast majority of players don't use strategies in their games. That's a shame because strategy is all-important when learning how to play blackjack successfully, and once you understand a few simple concepts, it's not difficult to improve your win rate and results with strategically made decisions.
In poker, while it's important to know what you're doing with certain hands, strategy often takes a back seat to guts and subterfuge in winning the game. In blackjack, strategy is everything. Using the right strategy at the right time can reduce the house edge in blackjack and have a direct impact on your chances of coming out on top.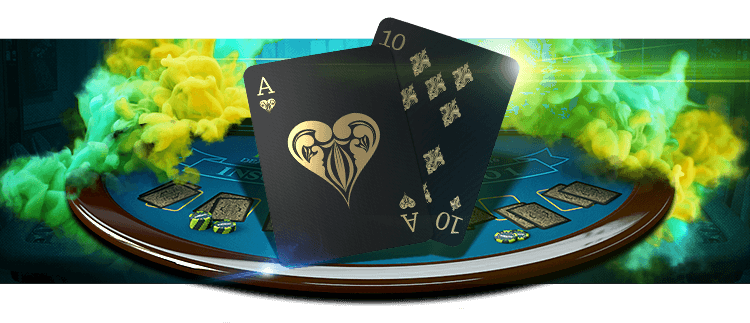 Why Strategise In Online Blackjack?
This may seem like a strange question to start the guide, but it's important to realise that there are various mechanics within Blackjack that allow players to make serious money above simply winning a hand, and to avoid losses that would wipe out a lesser player. Let's look at a few.
Hitting vs Standing
Knowing when to hit and when to stand is one of the most basic elements of the game, but most players are stuck thinking about their own cards when it comes to making that decision, and completely ignore what the dealer's cards mean.
Remember, you only have to beat the dealer to win (or force him to go bust), which means what you do next should really be determined by what the dealer's cards are rather than your own. For example, even if your card is relatively high, you should always hit if the dealer's card is also high - because there's a good chance that making the dealer draw another card will make them go bust. However, if your card is high and the dealer's is low, standing is usually the better option.
You can go bust in one turn in this situation, and making the dealer keep hitting may result in them going bust anyway.
Doubling Down In Blackjack
The act of Doubling Down allows you to place twice your original wager in exchange for drawing one single card, and in truth is the only way that you can expect to come away from your gaming experience on top if you play Blackjack over a long period.
Overall you stand to win 47% of normal hands, which you'll notice means that you actually lose more times than you win. The key is to make it so that you win more when you do win, and lose less money when you don't, so that you tip the balance in your favour - and Doubling Down is the primary way to do this.
Most casinos will allow you to double down from any cards dealt in a two hand game, and it's a method that finally allows you to go on the offensive when you're usually too afraid of going bust to take any risks.
The higher your pair is, the more likely you are to be approaching a Blackjack with your final card. Meanwhile, the more likely it is that the dealer will go bust or fall short with their remaining cards, so it's almost a no-brainer if your first two cards add up to anything higher than a seven - you're just getting more out of a hand that you would almost certainly have won anyway.
Blackjack Surrender Strategy
It may seem counterintuitive, but remember that making money at blackjack is as much about minimising your losses as it is about maximising your gains. One of the primary ways to do this is to by using the blackjack surrender rule, which will cause you to lose half your stake but lets you keep the other half, rather than losing it all.
A classic time to do this is when the dealer reveals an extremely strong hand, either an Ace or a Ten, meaning that their subsequent card is likely to be hard for you to beat (though note that this type of surrender is rarely allowed in US Blackjack).
More generally, it is easier to split hands into sets of 4, and if it looks likely that you will lose more than 50% of these then surrender is a good option for the remaining two games. While you will lose 50% of your stake over the 4 games, you will still lose less than the 53% average loss over a career in Blackjack mentioned above.
To Split Or Not To Split?
Another more advanced game mechanic is splitting pairs in blackjack, in which you are able to split your two cards into two separate hands if they are the same number by doubling your original stake.
Like Doubling Down, this is one of those opportunities to maximise an already winning hand and make the most out of any chance you get to take money off the House. Again, this strategy seems counterintuitive because by splitting your hand you are reducing both of your new hands to the face value of the single card, but this can be an advantage too.
For example, if you are dealt two nines you could probably win with the resultant 18, but a nine is a strong card on its own - so you also stand a good chance of winning with whatever is drawn next. Except, in that case, you'd be winning double.
Similarly, if you draw two sevens, 14 is a bad starting hand because you could go either way - a low score or a bust. However, splitting the hand into two sevens is a much better starting position because you can't bust in your next move and there's a good chance your next card will be high. In both cases, an extremely strong or an extremely weak hand are good candidates for a split - because it gives you a shot to cut your losses or maximise your gains.
Blackjack Insurance & Side Bets
During a game, it's often possible to make side bets in blackjack. These are bets placed in addition to the main play that, if used correctly, can help players to increase their winnings. One of the most popular types of side bets is insurance, which enables a player to cover themselves in the event that a dealer has a side up face card and hits blackjack. Side bets such as this typically work to reduce the house edge.

Other types of blackjack side bets such as perfect pairs, allow players to bet on other events happening during the game. In the event of a perfect pairs bet, players will be paid out if they are dealt a pair, either matching or of different colours or suits, in relation to the odds of that pair being drawn.

Side bets can be a useful way to boost your winnings if they pay off, and also help to minimise losses if the main blackjack game doesn't work in your favour.
How To Win At Online Blackjack
Ultimately, winning at Blackjack is about patience and memory - learning when the odds are for or against you based on the combination of your own hand and the dealer's. It's not an easy ride by any stretch, but it's up there with the most satisfying ways to win.
While there are plenty of blackjack myths out there that won't necessarily help you to achieve success and are best avoided, using the right strategy at the right time can directly impact the amount of blackjack winnings you're able to collect over time.
Whether you're new to playing Blackjack online or have been playing for a while, we have some fantastic casino promotions to welcome new members here at Gaming Club, including up to $350 in deposit match bonuses. Use your casino bonus to try out your preferred blackjack strategy, which will make winning even sweeter!