Gaming Club Casino: Best Live Blackjack in Canada
If online casino games could be celebrities, Blackjack would be right up there on the red carpet. Also known as 21, the worlds most widely played card game has appeared in movies, songs, novels, theatre productions, and more. When you play Live Blackjack at Gaming Club, you will understand why.
Canada's favourite Live Casino, you can do it all at your convenience at our casino online and on mobile.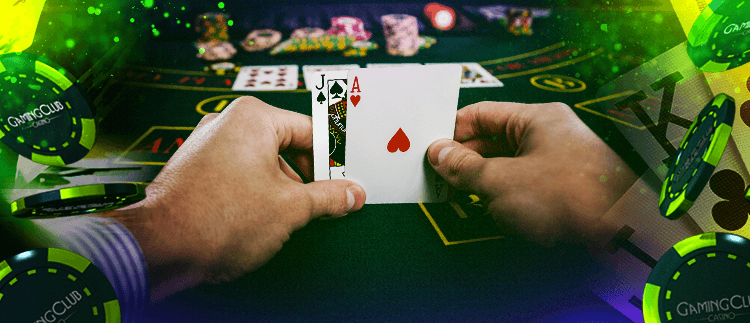 Live Blackjack Tables
Gaming Club's live dealer casino for Canadians offers a great selection of Blackjack tables that you can access easily from our lobby. While the basic features of each table are similar, each offers a unique way to experience the classic American variation of 21 and to use a Blackjack strategy.
To play the game, you place your bet, and are dealt 2 face-up cards. The dealer also gets 2 cards, but 1 is facedown. Your hand needs a maximum of 21 points, and a value greater than the dealer's, to win. You can play your hand as is, or you can try improving its value by hitting, doubling, or splitting.
Our Standard Live Blackjack tables are the perfect choice for everyday gaming. There is no need to roll high at these tables, and you still get all the thrill of knowing you could win a hefty payout if you beat the dealer.
If you want to turn up the intensity of the action, head over to our VIP Live Blackjack tables. These are where the high rollers come to play, so be prepared to see things really heat up!
There is no denying that Blackjack offers a ton of fun, and there is no better way to enjoy all the fun it has to offer than to play it at our Live Blackjack Party table. Run by a friendly dealer and a host or hostess with TV training, the table brings together the unmatched entertainment of the game, good humour, great music, and fantastic lighting for truly unforgettable gaming.
No matter how you like to play the iconic casino game, Gaming Club's Canadian Live Casino has a table for you. If you do not already have an account, complete the quick and easy registration process; claim a casino bonus when you make your first deposit, and start playing to beat the dealer.
Quality Live Blackjack
Thanks to Evolution Gaming, our Live Blackjack tables really are a cut above the rest. First and foremost, they have been created with you, the player, in mind, and you can use Blackjack strategy to its best effect.
The fully trained dealers you can interact with using live chat, which you can also use to chat to other players, really are friendly, and – dare we say it – easy on the eye. HD video streaming ensures you can feast your eyes on all the action, and a player-friendly interface makes it easy to place bets and control every aspect of your gaming while doing it.
Each of our Live Blackjack tables has 7 seats, but it is not a problem if they are all occupied when you log on. The Bet Behind option gives you a chance to bet on the action that is taking place at the table. Once you are in a seat, you also have the option of placing 21+3 and Perfect Pairs side bets, Split Pair bets, and an Insurance bet against the dealer's Blackjack. Experience it all for yourself at Gaming Club Canada.