There is No Baccarat Like Live Baccarat
There are better ways to feel like a spy hero than owning gadgets that explode. Playing Live Baccarat, Roulette or any other game at Gaming Club is one of the best of them.
The centuries-old game has never lost its reputation for being one of the most thrilling of all casino offerings. Unlike Live Blackjack, in which a Blackjack strategy could help you win, Baccarat is all down to luck. Other than deciding which way to bet, you have absolutely no say in what happens once the cards have been dealt.
The game's cutthroat action has proved irresistible to high rollers over the years. From royalty to playboy millionaires, and from actors to singers, the rich and famous love Live Baccarat. Feel the intensity when you play it with dealers trained to take the classic game to new heights at our Canadian Live Casino.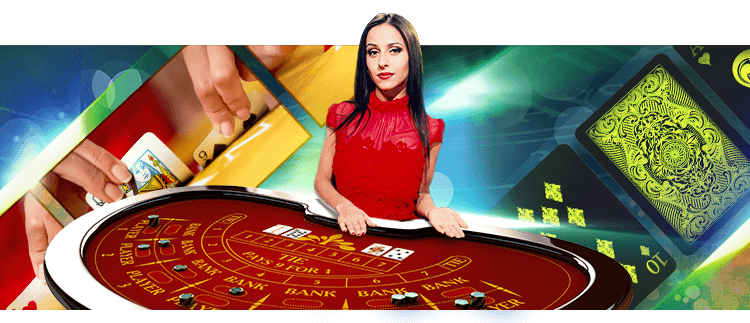 Live Baccarat As Never Before
Multiple HD cameras at various positions around bean-shaped tables, integrated live chat, and software that offers easy access to Cockroach, Big Eye, Small, and Big Roads are just some of the elements that make our Live Baccarat casino games as good as they are.
Our tables are modelled on those found in the prestigious casinos of Macau, where Baccarat has undergone exciting developments in recent decades. Of course, the tables are not the only part of playing the game at Gaming Club inspired by the gaming of the Far East.
Access the various roads to help decide how to bet. Each of them offers a closer look at trends in previous online casino games. The live chat feature connects you to other Canadian players at your tables as well as to the dealer. Easy to use, it turns playing Live Baccarat on your computer or your Android, iOS, or other mobile device into a fun, social experience.
Find Your Live Baccarat Table
For a card game in which your hands are pretty much tied, Baccarat is a surprisingly versatile casino game. Take a look at our tables, and see just how versatile it can be.
Feel the Squeeze: Numerous cameras bring you nail-biting close-ups of the gut-wrenching ritual known as the Squeeze, known for being one of Macau's big contributions to the game. Enjoy fully-immerse gaming fraught with suspense.
Squeeze Yourself: Play Live Baccarat at the Control Squeeze table, where you can use cutting-edge software to perform the Squeeze yourself. Our dealers are trained to make the reveal as excruciating as possible, but you can go as slow or as fast as you like.
From Every Angle: Hollywood-style camera work offers a completely new view of the classic game in Multi-Camera Baccarat. With cut-away shots, close-ups, and everything in between, it will make you feel like you are starring in your very own blockbuster, so don't be surprised if you suddenly have a hankering for something shaken, not stirred.
Increase the Tempo: With rounds that do not last longer than 27 seconds, there is no time to dilly-dally when you play Speed Live Baccarat at Gaming Club's Canadian casino. If you have a lifestyle that keeps you on the go, this is the game for you. Dip into the action at any whenever you want to, and you could win a lot of money in a few seconds.
Why Play at Gaming Club
Licensed, regulated, and powered by the world's leading provider of Live Casino games, our casino is the place to get your Live Baccarat fix. We will also shower you with casino bonus rewards, promotions, special offers, and exclusive player rewards for playing regularly.
With so much on offer, you have every reason to bet on either the Player's hand or the Banker's hand to win, or on both to draw. See how the cards fall at Gaming Club or, for a change of pace enjoy our online slots, Roulette and other great casino games.