Canada's Favourite Video Poker Casino Games
In the age of the selfie, looking good is more important than ever before. There is no need to go give yourself any more wrinkles than you need by contorting your facial features over a hand of cards. Thankfully, when you play online Video Poker, there is no need for a Poker Face!
In fact, Video Poker is possible the one version of the game that will not leave you looking tired and haggard. It offers all the fun and winning potential of Poker – some versions even let you use tried and trusted strategies other than making faces – but it does it with all the ease of online slots.
Video Poker was available in offline casinos for a few decades before it really came into its own online. Leading software providers such as Microgaming took an already good concept, and improved it.
Play Canada's best versions of Video Poker and other favourite online casino games at Gaming Club. Place your bet, get your cards, and play your hand to win.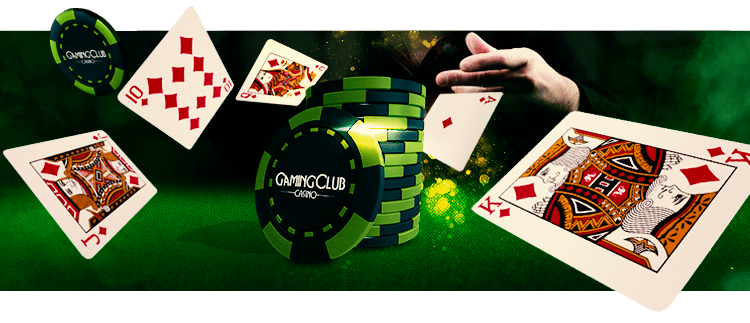 3-Card and 5-Card Video Poker
All the vibrant Video Poker games available at our casino are either 3-card or 5-card games. Apart from the number of cards you are dealt, the difference between the 2 formats is that, in 3-card games, you can either raise or fold. In 5-card games, you have the option of drawing new cards and you can use skill, similar in how you would use a Blackjack strategy to improve your winning chances.
As such, 3-card games tend to be much faster than 5-card games. The suspense and thrill they offer is fast and furious, whereas 5-card games let the suspense build by allowing you to hold or discard cards. Can you handle the action of online Video Poker? Play it at Gaming Club's Canadian online casino and find out!
Online Video Poker Basics
The combination of online slots-style gameplay with Poker-style thrills must make Video Poker one of the easiest online casino games you could play. Once you have placed your bet and clicked the play button, your cards will be dealt.
Whether 3 or 5 cards, they will appear face-up in a neat row on the screen. Generally, yours is the only hand you need to worry about. There are no other players. In online Video Poker, it is all about what you have in your hand.
If you are playing a 3-card game at our online casino for players in Canada, you then need to decide what to do with that hand. If it is strong enough, raise, and go in for the kill. If not, consider folding.
If you are playing 5-card online Video Poker, you need to think about whether you could improve the hand you were dealt. If any of your cards form a winning hand, they will be held automatically. Select any other cards you want to hold. If there are any you do not want, do not select them. Once you click the draw button, the cards you have not held will be replaced, and the new hand that forms will be analysed for a win.
Bonus Features for More Action
Just like online slots, online Roulette, online Baccarat, and other casino games, online Video Poker can either keep the action simple, or it can turn up the heat by throwing some bonus features into the mix.
The most common casino bonus feature found in Video Poker is the Wild card. A certain card, such as the Jokers or all 2s, is designated as the Wild, so it can substitute for any other card in the pack as needed.
Other features you could encounter when you play Video Poker at Gaming Club's Canadian online casino are bonus payouts for certain hands, and double or nothing gamble features, all of which make playing casino games with us all the more exciting.