Canada's Liveliest, Loveliest Live Roulette
Whether you know it as the King of Casino Games, the Devil's Game, or as plain old Roulette, you will know it never disappoints. Oh, it will evoke all sorts of emotions in you, but disappointment is not likely to be one of them.
Unlike games such as Live Blackjack, Live Baccarat, and others, which use playing cards or dice to determine results, Live Roulette uses the famous wheel and a small white or silver ball. The game is said to be the invention of a 17th century scientist named Blaise Pascal, who was trying to invent something else.
Available in all sorts of variations at Gaming Club's Canadian Live Casino Roulette is exciting, exhilarating, and highly entertaining. Experience a true classic of the casino with state-of-the-art modernity online or on your Android, iOS, or other mobile device, thanks to our casino being powered by award-winning Evolution Gaming.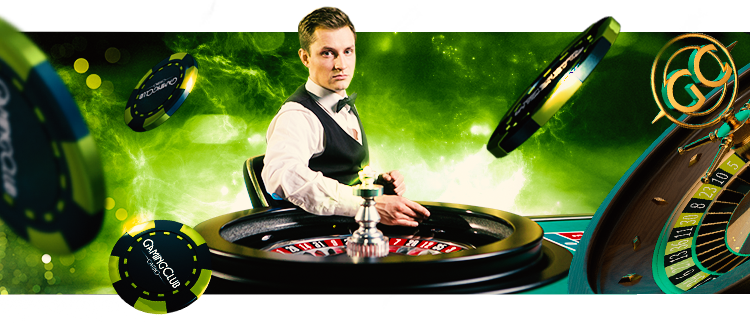 Live Roulette's Variations
The game gifted to the world by Pascal 300 years ago evolved into three distinct variations. All other variations of Roulette are based on one of these.
The European and French versions of Live Roulette are very similar. Both use a wheel with red and black pockets numbered from 1 to 36, and a single green 0 pocket. The European version usually features only the traditional outside and inside bets, while the French variation also features call bets and neighbour bets. French Roulette also features additional rules regarding even-money bets.
The main difference between American Live Roulette and the others is found on the wheel, where it has an extra pocket. It is coloured green and marked 00. This apparently minor change pushes up the house edge, making it a much trickier game than the other variations. Try your hand at these classic variations at Gaming Club, and then play at tables where innovation takes the classics to new heights.
Playing Live Roulette
While details such as the number of wheel pockets may change from variation to variation, Roulette's basic gameplay is the same across all variations. To play the game at our Live Casino for players in Canada, you need to place a bet on the colour or number of the pocket you think will be the one in which the ball will land.
You can place even-money outside bets that give you better chances of winning, such as Odd/Even or Red/Black, and you can place inside bets such as snake or street, or you can be far more specific and bet on an exact number. Our friendly Live Roulette dealer will spin the wheel and drop in the ball once bets have been placed. Use the integrated live chat feature to chat to the dealer and to other players while you play. The dealer will announce the result as soon as the wheel stops.
Live Roulette at Gaming Club
Take your pick of Live Roulette games at Gaming Club. Each of our tables offers a one-of-a-kind experience, so try them all and find your favourite. The tables you can find at our casino include:
Standard Live Roulette
VIP Roulette for high rollers
Mini Live Roulette in windows small enough to allow for playing multiple games simultaneously
French Live Roulette with call bets, neighbour bets, and the La Partage (sharing) rule
Immersive Live Roulette with multiple cameras and 200 frames per second visuals
Speed Roulette in which our dealer takes bets as the wheel is spinning
Double Ball Roulette in which 2 balls in 1 wheel could see you paid out as much as 1300-1
Slingshot Auto Roulette that uses mechanics and number recognition tech to offer the Live Roulette experience without a dealer
From the amazing array of Roulette games to online slots, to games where Blackjack strategy is essential, to a generous casino bonus and promotions that always give you the edge, it's clear that Gaming Club Casino is the best place to play in Canada!