Evolution Live Roulette
Evolution is an industry leader when it comes to live casino games, and roulette happens to be their most popular casino game. Evolution Live Roulette is always packed full of players due to its widespread appeal, the availability of multiple roulette variants, and the live roulette table experience complete with friendly yet professional croupiers that add to the sense of immersion.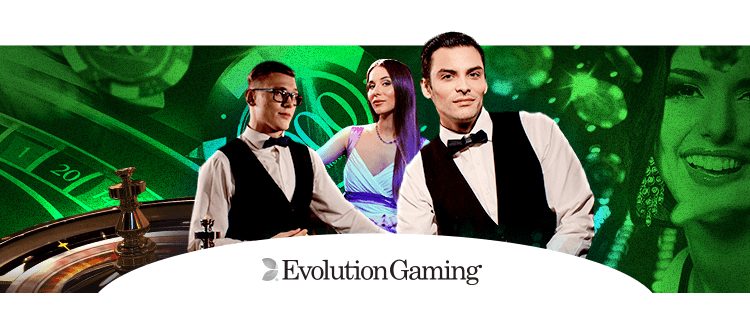 About Evolution Live Roulette
Rather than being a single game of roulette, Evolution Live Roulette is a platform containing an impressively large and varied collection of roulette games in multiple languages, formats, and speeds of play. There's one read thread running through all of Evolution's roulette games, however, and that's the fact that they're all beautifully designed experiences that blend the immersive aspects of being at a live roulette table with all of the benefits of being a digital casino game. These games are available across tablets, mobiles, and PCs and look great on any device thanks to Evolution's three different viewing experiences and angles. Evolution leads the pack in live roulette, and Evolution Live Roulette does not disappoint when it comes to aesthetics and audio/visual quality. The tables are clean and professional with a glamorous roulette wheel as the centrepiece. All croupiers are professional and friendly, sometimes even chatty with players although they are trained to keep your eyes on the action.
How to Play Evolution Live Roulette
It's easy to pull up a seat and enjoy Evolution Live Roulette, but players will first need to decide which game they prefer. For example, the following types of games can be played at the click of a button:
Immersive Roulette: an up-close and personal HD immersive experience for all players.
Immersive Lite: as one would expect, a lighter version offering of the Immersive Roulette game.
Live European Roulette: a live version of the classic European variant of roulette with high winning potential.
Speed Roulette: want lightning-fast action? 25 seconds per round are all that it takes to play Speed Roulette.
French Roulette: play this exciting variant of European Roulette that reduces losses on the zero with the La Partage rule. And many more...
Rules & Stats
Each version of roulette in Evolution Live Roulette has its own set of rules and stats depending on the version of roulette and the player's bet. In general, all roulette games play more or less the same. A ball is dropped onto a spinning wheel, the roulette, and wherever it lands determines the payouts of players' bets. What makes roulette so appealing, however, is that the possibilities for betting are rich and strategic and aren't simply "red or black" or "odd or even," although these are simple bets that any novice or expert may choose to make.
Special Features in Evolution Live Roulette
Each roulette game in Evolution Live Roulette contains its own set of unique rules and perhaps special features, but at its heart roulette is a game of chance. Complexity only comes through complex betting arrangements. Extras such as statistical breakdowns from the past 500 wins are all available to assist players and can be enabled in the options menu.
Play Evolution Live Roulette
Evolution Live Roulette is amongst the most popular online casino games, and certainly one of the top online roulette experiences. All for good reason, too. Come give the wheel a spin and see what all the excitement is about for yourself.