How To Play Online Blackjack
Blackjack is one of the most famous and iconic games in bricks and mortar casinos, up there with Poker and Roulette, so it's no surprise that the virtual version is one of the most popular casino games on the Internet. As with all casino games, online Blackjack is easy to play but tricky to master, so let's take a look at how it works and how to win.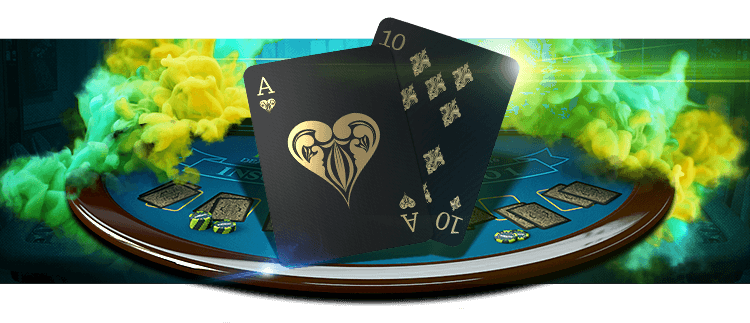 Online Blackjack: The Basics
Unlike other card games like Poker, Blackjack is entirely played between you and the House, so while it lacks a certain social element that comes from playing against other gamers it means that your success is entirely in your hands. It's you vs the odds. However, you can opt to play live online Blackjack with a human dealer, which works in much the same way but adds that level of human interaction that many people enjoy.
The dealer deals your hand one card at a time, giving you the option to receive more cards or call it quits, and the objective of the game is to get as close to 21 as possible without going over that number, which is called going 'bust'.
Finishing on exactly 21 is called a 'Blackjack'. Picture cards are discarded from the deck and aces may count as one or eleven depending on the house rules, so it really is as simple as counting the value of your cards so far and trying to work out the odds that the next card will take you closer to 21 or send you over the edge.
Online Blackjack: How To Play
A round starts when you place your bet, which is the amount you want to risk against your hand being the winner. Next, the online dealer places your first two cards face-up on the table, while their first two cards are played one face up and one face down.
Once each fellow online player has had their turn drawing cards, either going bust or electing to stick with their current score, the dealer turns over their card facing down. If the score of their two combined cards is less than 17 they will keep drawing cards until they pass this figure or they go bust.
If the dealer goes bust the players win, while if the dealer reaches a score higher than 17 but lower than a Blackjack only the players who have beaten the House's score win. Winning hands are usually paid out 1:1, meaning you'll get back twice what you wagered, while Blackjacks payout at 3:2.
Online Blackjack: More Rules
While we've been over the basic concepts behind the game, there are a few extra rules you'll need to know if you want to play live Blackjack online. First of all, the lingo: asking for more cards is called a 'hit' while deciding to stick with the cards you've got is called a 'stand'.
You can elect to 'double' after you've been dealt your first card, which allows you to double your bet in exchange for just one more card, something you would usually do if you've had a particularly good first card and you reckon you can get a winning hand quite easily.
You can also 'split', which means that you double your bet and convert your first two cards into separate games. You'll get two cards instead of one, and if one of your hands goes bust you can keep going with the other, something you can do up to a maximum of four hands.
Finally, you can surrender, which means you forfeit the rest of your hand and half your wager in return for being allowed to keep the other half. You can do any of these things with the push of a button in online Blackjack, and you'll be given prompts to show you how to do it. Some online casinos have a variety of other different and exotic rules to spice up play, which will be explained to you as you progress.
Online Blackjack: Strategy
Once you've got the hang of playing Blackjack online you'll probably want to try out some tips and tricks for increasing your chances. The famous casino strategy of card counting doesn't work online because the decks are shuffled between each hand, but you can still make some solid assumptions about what's left in the deck based on what has come before. This counts double if you're playing a single deck version that allows multiple hands.
A second strategy is less about the game and more about your winnings. The basic rule is to progress your bets in a sustainable way, increasing your bet by a chip when you win and keeping it the same when you lose. That way your betting never gets out of control, and you can slowly progress towards a profit. Even more advanced strategies rely on memorising complex charts that show the most efficient move in any given scenario, which can help you maximise your winnings but is also very hard to do well.
Play Online Blackjack
Blackjack is incredibly popular throughout the world. It offers simple to pick up gaming, exciting play and more in-depth strategies to provide long-term interest. Whether you're new to the game or are an experienced player, playing Blackjack online is an easy and convenient way to access a huge range of Blackjack options it a way that suits you.
From playing mobile Blackjack while you're out and about, to enjoying an exciting gaming experience from the comfort of your home, pull up a seat and see if you can beat the dealer to Blackjack!