Gaming Club Delivers Top Mobile Blackjack
Double down on the fun of playing 21! Thanks to Gaming Club's Canadian mobile casino, the magic of Blackjack is just a tap away. No matter where you are, regardless of the time of day or night, if you want to play mobile Blackjack, you can. Plus, with our generous casino bonus you can give your gaming a head start!
Face the dealer in the ultimate battle of wits. You get 2 cards to start, and from there, it's a race to 21 points. Get there first, or get close enough while still beating the dealer's hand, and victory is yours. Relish the thrills of the classic card game in glorious HD graphics, smooth animations, and with player-friendly interfaces, all powered by one of the industry's leading mobile casino games software providers, Microgaming. Enjoy Canada's finest mobile gaming with us.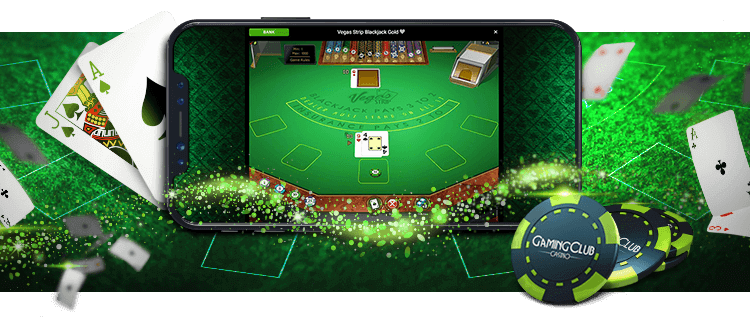 Blackjack Action On the Go
Take the action of 21 to the next level with Gaming Club. When you play mobile Blackjack at our casino, you can enjoy:
eCOGRA-endorsed fair chances to win huge CA$ payouts
The best quality gaming software
Ease of playing on Android, iOS, or other devices
Secure banking and 24/7 customer service
Big bonuses and hefty player loyalty rewards
A selection of Blackjack online casino games, as well as online slots, Roulette and more
Mobile Blackjack Variations
Blackjack has been played for more than 300 years. Play the iconic casino game with us, and find out the reasons 21 holds its unshakeable position as one of not only Canada's but the world's favourite casino games.
One reason the game is still relished is because of its versatility and the fact that you can use Blackjack strategy to change the outcome. The original version of the game is now known as European Blackjack, while the variation that developed a couple of centuries after the game was created is known as American Blackjack.
In the European variation, the dealer receives 1 face-up card for your 2 face-up cards. The dealer's second card is dealt only after you have made your first move. In the American variation, the dealer receives 2 cards; 1 of which is facedown. Depending on the value of the face-up card, the dealer could check for Blackjack (a hand worth 21 points) before you have even made your first move, which could bring things to a swift end!
In both these basic mobile Blackjack variations, the gameplay itself gives award-winning software providers such as Microgaming room to include all sorts of exciting innovations. Among those that you can encounter are the possibility of playing multiple hands per round, playing to win a gargantuan progressive jackpot, and being able to place side bets that could result in bonus payouts. Play to win at our Canadian mobile casino.
Mobile Blackjack Tournaments
At Gaming Club, we offer you plenty of opportunities to use Blackjack strategy to beat the dealer. Among our most popular offerings are our regular Blackjack tournaments.
The tournaments feature Microgaming's multi-player edition of the game, which means you can play against other players from Canada, and really put your skills to the test.
Playing Mobile Blackjack
You are sure to find playing mobile Blackjack easy. If the hand you were dealt is not worth 21 points, but it looks like you could improve it without going bust (exceeding 21), you can do it by hitting for another card, doubling down for another card, or splitting your hand into 2 new hands, with a new card for each.
Once you have made your move, the dealer's full hand will be revealed, and with that, the winner. Place your bets and use Blackjack strategy to win at Gaming Club when you play online casino games such as Classic Blackjack, Vegas Strip Blackjack, High Streak Blackjack Gold, and many more.