Unleash Mobile Roulette Magic
It is the simple things in life that are usually the most magical. A beautiful orange sunset, the first cry of a new-born baby, the unintentional comedy in the words of world leaders and with all the grace of a clumsy infant – yes, the simple things really do have a magic all their own.
Mobile Roulette's wheel is one of the simplest tools used to determine game results. It is a simple wheel on which dividers have created pockets, which are mostly red or black. Each of the red and black pockets features a number between 1 and 36, while the green pocket is marked 0. In one version of the game, the American version, the wheel has a second green pocket.
There is nothing special about the Roulette's wheel when it is motionless. However, set it spinning, drop the white or silver ball into it, and everything changes. Those simple actions set in motion some of the most intense gaming thrills you could ever experience. Get ready to place your bets at Gaming Club, Canada's most trustworthy mobile casino.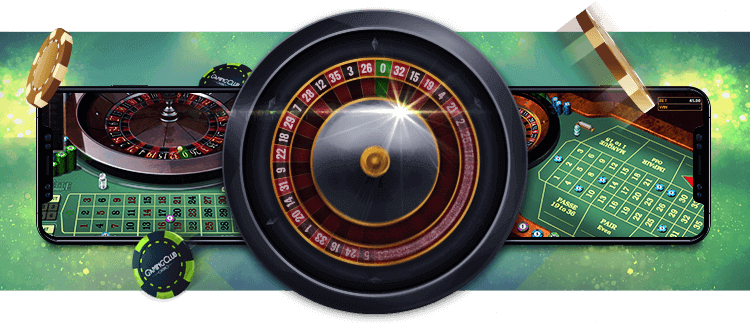 Mobile Roulette Variations
Over the centuries, casinos and players have developed 3 main variations of the game said to have originally been created by scientist Blaise Pascal during his quest to invent a machine capable of perpetual motion. Those variations, which you can play at our casino on your Android, iOS, or other smartphone or tablet, are European, French, and American online Roulette.
European Roulette: The wheel features 37 pockets, with 1 of those being a green 0 pocket. The simplest of the variations, it lets you place the game's traditional inside and even-money outside bets.
French Roulette: This variation developed a couple of centuries after Roulette's first appearance. It also uses a single-0 wheel, but features call bets and neighbour bets in addition to the classic bets. It also utilises a rule known as Sharing or La Partage. If you lose an even-money bet, half the amount of your lost bet is returned to you.
American Roulette: The wheel of American mobile Roulette features 38 pockets. The extra pocket is green, and marked 00. You are not likely to find call or neighbour bets in this variation, but the extra pocket does offer some additional bets, as well as the chance of winning much higher payouts.
In addition to these, you can also find innovative editions of mobile Roulette that use 1 of the 3 main variations as their base at Gaming Club's casino for players in Canada. Among them are Premier Roulette, which brings together the European and French variations, and Roulette Royale, in which you could win a gigantic, CA$ progressive jackpot.
Best Quality Mobile Roulette
Powered by Microgaming, a world leader in the development of mobile online casino games such as online slots, Blackjack, Video Poker, and many more, Gaming Club offers you quality, security, and fair play.
Enjoy the action of mobile Roulette that features lifelike HD graphics, animation, and sound effects, smooth playing action, and interfaces that make putting your chips on the table and spinning the wheel convenient and easy. Whether you play in portrait mode at home, or in landscape mode on the move, you can look forward to top quality entertainment.
Playing Mobile Roulette
Whichever mobile Roulette casino game you choose at Gaming Club, the basic gameplay is the same. All you need to do is guess where the ball will land in the wheel.
Place your bet by putting your chips on the relevant part of the betting track, spin the wheel, and wait to see if you are a winner! Claim your casino bonus at Gaming Club and indulge in Roulette, online slots, or use Blackjack strategy to win big in your favourite games!