Best Quality Canadian Casino Mobile Video Poker
Time is a precious commodity in a busy world, and it is something of which most of us do not have enough. When time is of the essence, playing online casino games such as Poker can be difficult – especially if you want to make the most of your gaming sessions. Change this with mobile Video Poker.
Available at Gaming Club, Canada's favourite mobile casino powered by Microgaming, games based on 3-card and 5-card Poker offer you the unique thrills of the game in a way that is quick and easy to enjoy at home or on the move. There are no dealers and no other players involved. It is you and the cards, and if you are lucky, those cards will pay out. Do not let the busyness of life get in the way of your Poker-playing. Discover Video Poker at our casino on your Android, iOS, or other smartphone or tablet.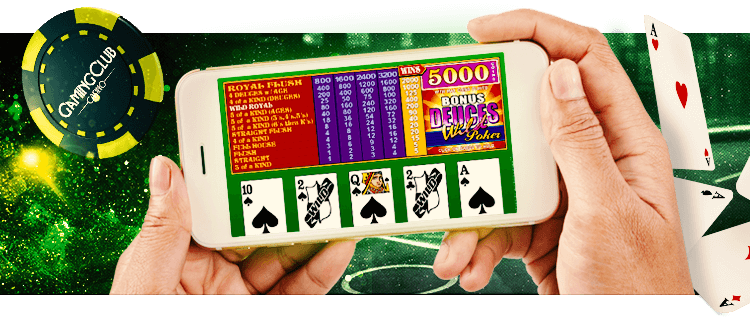 Video Poker Pays Real Money
Apart from the ease and convenience it offers, mobile Video Poker is also one of the most generous mobile casino games you could play. With a nice, low house edge, they are renowned for having a RTP greater than 95%.
Play Video Poker for real money at Gaming Club. You can use trusted payment methods such as credit cards, e-wallets, and prepaid cards to deposit CA$ into your account, and you can do it without a care in the world. Our banking service is protected by the latest SSL data encryption.
When you play mobile Video Poker, or online Blackjack, online Roulette, or other games for real money at Gaming Club, you can also claim fantastic casino bonus rewards for enjoying more gaming action, and you can earn loyalty points. This is to say nothing of the amazing jackpots, bonus payouts, and other payouts offered by our games. Play to win at Gaming Club and claim a casino bonus to give you a boost!
Microgaming-Quality Video Poker
The quality of casino games hinges entirely on the software used to build those games. When you play mobile Video Poker at Gaming Club's Canadian casino, you are playing the best Video Poker games available.
The Random Number Generator used by Microgaming to produce all its online slots and other game results is tested independently for fairness on a regular basis, and is certified as such. Of course, this is one of the world's leading mobile casino software developers we are talking about, so fair play is only part of the wholly glorious picture.
You also get to enjoy eye-popping graphics, as well as custom music and sound effects, and game interfaces that are easy to use when playing on the move. Experience the magic of Microgaming when you play Jacks or Better, Bonus Poker, Double Double Bonus Poker, and more at our casino.
Mobile Video Poker: the Basics
As mentioned, Gaming Club's Canadian mobile casino has 3-card and 5-card versions of Video Poker. When you play 3-card mobile Video Poker, 3 cards are dealt face-up after you place a bet. Use the mobile slots-style controls to either raise or fold once you have your cards in hand.
Playing 5-card Video Poker also sees your cards dealt face-up once you have placed your bet. However, you then have the option of holding cards, discarding cards, and drawing new cards to replace those you discarded. Cards that form a winning hand will be held automatically. Select any cards you want to hold, and then tap the draw button. The resulting hand will determine if you have won.
Mobile Video Poker is fast and simple, and loses nothing of the fun, the thrills, or the winning potential of traditional Poker. Play this exciting online casino game on the go at Gaming Club.