Blackjack Strategy: The House Edge
Did you know that blackjack is one of the oldest casino table games that is still played regularly today? Historical evidence that suggests the card game was being played as far back as the 16th century, with various mentions of it by writers and explorers of the time such as Miguel de Cervantes. Indeed, some discoveries point to rudimentary versions of blackjack being played far into antiquity, and when you consider the relatively simple nature of the game, this is entirely possible.
One of the reasons why players love the game, including online blackjack, in relation to many other casino games is that it regularly gives the best odds. This is especially the case when players understand and make use of the right blackjack strategy to increase their odds of winning, and decrease the house edge.
As with most games, winning at blackjack involves overcoming the house edge, which is necessary to enable the casino to operate, and the pursuit of the best odds possible. Read on for a discussion about blackjack strategy and how it relates to the concept of the house edge.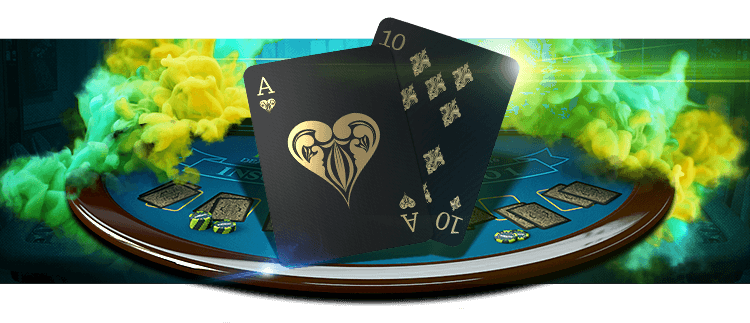 What Is The House Edge In Blackjack?
The first thing to explore is what exactly people mean by "house edge". Commonly used, it's surprising how many casino gamers don't know exactly what it means. Have you ever heard of the popular phrase, "the house always wins"? Well, this is probably the simplest way to explain what house edge is.
In order to be able to cover the costs that are necessary to operate, so that it can stay in business and provide access to games at all, every casino across the world needs to win more money than it loses on average, and the house edge is exactly how this is made possible.
Each casino game has a slightly different house edge, with options like slots often having a slightly higher house edge than blackjack, along with other table games such as roulette. Blackjack, on the other hand, can have a house edge that is theoretically as low as 0.5%. However, this is only in the case of experienced and high-level blackjack players using the right strategy to increase their chances of winning. For the average person entering the game, the house edge will sit somewhere between 1.5% and 2%, although there are various ways in which this can be improved.
Without further ado, let's take a look at some strategies that can be used to reduce the house edge, and subsequently win more money!
Learn The Art Of Blackjack Card Counting
Blackjack card counting is one of the most mysterious strategies in the whole of the casino gambling world, predominantly because players that engage in the practice are almost always trying to be discrete about it. Card counting revolves around the premise that if you can keep tabs on all the cards that the dealer draws throughout your session, you will be able to make an informed guess on what cards are left in the deck and then bet accordingly.
Some of the most successful blackjack players over the last century have employed the use of blackjack card counting, and if you end up doing it 100% accurately, it can cut the house edge all the way down to pretty much 0%. Just be careful here, because although blackjack card counting isn't technically cheating, most casinos will stop play for anyone that they find doing it.
Stand On A 16
There are several specific areas of blackjack strategy that use something called composition-dependent strategy in order to decrease the house edge, which is essentially a very basic version of card counting. One such example dictates what gamblers should do if they are dealt a hand total of 16 that contains three or more cards.
Following traditional blackjack strategy here would usually result in the player hitting, however, in this particular instance, standing on a 16 will decrease the house edge far more than any other play.
The reasoning behind this is that this hand will definitely contain at least one small value card, and this means that they are subsequently unavailable in the deck of unplayed cards. Hitting on a 16 means you're hoping for a small value card, but if you already have some of them in your hand, the possibility of drawing another is decreased, and standing on a 16 becomes the option with the best odds.
Do Not Use The Martingale Betting System
There is a definite clique of casino fans who swear by a progressive betting system called the Martingale strategy when they are playing blackjack, with many of these players claiming that it can significantly reduce the house edge. Be aware of this claim, because not only is it not quite true (betting systems impact your bankroll, but rarely have an influence on true house edge), but it can also be a rather dangerous tactic to employ.
This is because the Martingale strategy is predicated on the need for players to double their bet after every loss, with the view to eventually being able to recover any losses made with the next winning hand. While this works in theory, players will need an almost infinite bankroll to make this work in reality, and it is generally best to avoid the Martingale betting system if you want to decrease the house edge in regard to your winnings.
Do Not Be Afraid To Split Your Hand Where Necessary
Most blackjack beginners probably won't be particularly comfortable splitting their hand while playing due to a lack of understanding about what it really entails, however, splitting your hand can do wonders in regards to decreasing that all-important house edge. When players are dealt a pair of the same value cards, they have an option known as splitting pairs which allows them to split their cards into two separate hands; sometimes you'll shoot yourself in the foot by doing this, but other times it can really help increase your odds.
The golden rule in blackjack is to play against the dealer, rather than simply to get to 21. So split your hand if you are faced with something like a 5 or 6, but think deeper before you split if the dealer is in a better position.
Understand The House Edge In Blackjack To Increase Your Winnings
Without the existence of a house edge in blackjack, casinos would not be able to provide the game to players and, as with all games, this is why it exists. However, blackjack is one of a small number of games where it is possible to improve the odds in your favour by using the right strategy. So, taking some time to learn more about blackjack strategy and how it can impact the house edge can make a real impact on the long term success you have with the game.