Play Mobile Video Poker Anywhere
When it comes to great online gambling players have known for some time that it simply doesn't get better than what is on offer at Gaming Club. Now the online casino games have made their way onto our world-class mobile platform, allowing you to take the action with you wherever you go in New Zealand.
All our games translate well to mobile devices, thanks to our adaptable Microgaming software, but Video Poker and online pokies seem to be especially suited. Since they are player-controlled machines in land-based casinos, when you control them using your fingertips on a touchscreen the action feels much more like the original games than when you use a cursor and a mouse.
Video Poker is also very quick to play, unlike online Blackjack or other card games. This makes it perfect for mobile devices, which are often used to snatch moments of online casino time as players move through their busy days.
The game has quite a short history compared to other casino entertainments; it was introduced to land-based casinos in the late 1970s when new processing technology made video animations possible in gambling games. An instant success, Video Poker was among the first games to be introduced to a casino online. It is as popular as ever, rivalling only pokies and Blackjack online.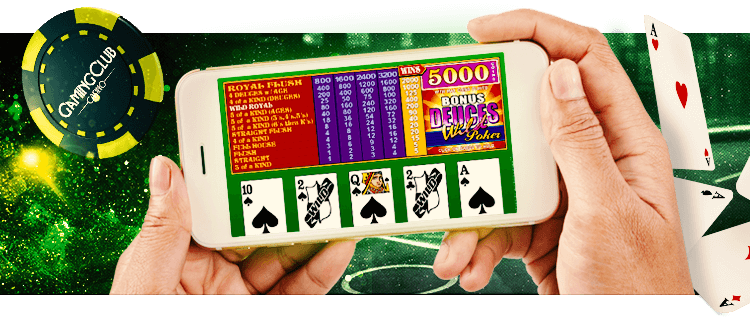 Video Poker Basics
In Video Poker, the objective is always to build the best possible 5-card hand, according to standard Poker rankings. To start with you need to place your bet, and can put down as many as 5 coins. Once you've done this, 5 cards will appear, dealt from a single deck, on your screen at once.
You need to decide which you want to keep and which you want to discard and replace with new cards from the same deck. You can keep or exchange as many as you wish, but you have to do it all at the same time. When this has been done, the round is over and you are paid out according to what you bet in the first place, and the cards in your final hand.
The original Video Poker casino game is Jacks or Better, and it is still widely enjoyed. Over time many different versions have arisen, each with slightly different rules. You can enjoy several of them at Gaming Club New Zealand, and there are strategy charts for each of them. These show you exactly which cards to keep and which to replace, for every possible hand that you could be dealt.
Enjoy Video Poker on Different Levels
Video Poker provides quick action and thrilling payouts, and there is plenty to enjoy about the casino game in its own right. Play at the beginning of a casino session to warm up, at the end of a session to cool down, or between more serious table games as a palate cleanser.
In addition to providing well-rounded online casino sessions based on its own merits, you can play Video Poker as a way of getting into table Poker. Since the hand rankings are the same but the game is so much simpler, it gives you the chance to get to grips with them and have them become automatic. Once you reach this level, you can start learning the much more complex structure of a table Poker game.
As a blend of instant pokies action and card game strategy, Video Poker hits all the right notes, and the perfect place to play it in New Zealand is with Gaming Club. Register your account, make your first deposit, claim your Welcome Bonus and try it for yourself.