Spin to Win with Mobile Roulette
Roulette online casino games have been a huge hit around the world. The mobile variations bring everything players loved about playing Roulette at a casino online to portable devices, making them more convenient than ever before. The excellent versions of Roulette that we have at Gaming Club put one of the best experiences in online gambling has to offer, right in the palm of your hand!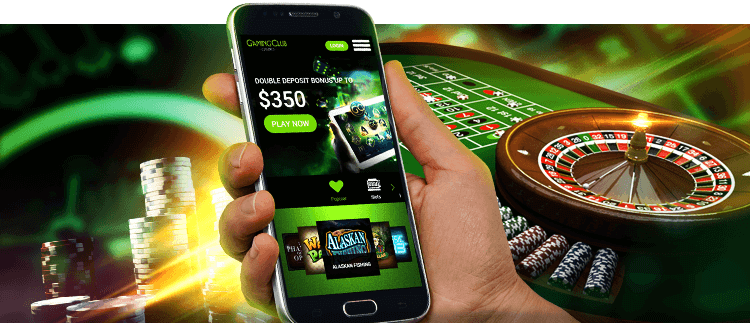 Perfect for Every Mobile Player
Gaming Club understands that different players prefer different devices, which is why we made sure that our advanced Microgaming software was adaptable and would work perfectly with iPhones, iPads, all Android handsets and any other smartphone or tablet you wanted to use.
You can enjoy online pokies, online Blackjack and many other mobile casino games at Gaming Club on your mobile device including, of course, online Roulette. The games work the same as when you play them online, and Microgaming has specially developed or adjusted each title to make it optimally compatible with the smaller screens and processing units of tablets and smartphones.
Basics to Get the Roulette Wheel Spinning
Roulette originated in France and its name actually means "Little Wheel" in French. The wheel in question is at the heart of the casino game; it is spun and a ball is dropped onto it. The wheel is divided into segments and you need to place bets, by putting chips on the appropriate area of the Roulette table, to predict where the ball will end up when the wheel stops spinning.
The segments are alternately coloured in red and black, and numbered from 1 to 36. There is also a green panel numbered 0. In American Roulette, which developed after French and other European settlers travelled to the New World, an extra green segment numbered 00 was added to appease proprietors who demanded a bigger house edge.
Bets in Mobile Roulette
There are 2 tracks on the Roulette table; bets on the outside and bets on the inside tracks are called Outside Bets and Inside Bets respectively. Outside Bets are much simpler and have a nearly 50% chance of being right; they include Red/Black Bets on whether the ball will land in a red or black segment; Odd/Even Bets on whether the number of the panel that the ball lands in is odd or even, and High/Low Bets on whether the ball will land in a segment numbered 19 to 36 or 1 to 18.
Inside Bets are on ranges of specific numbers, and can even be on the exact number of the panel that the ball will land in. The risk with Inside Bets is much greater than with Outside bets, but the rewards are much larger too. The high-stakes world of glamorous gambling is alive and well with the mobile Roulette casino games at Gaming Club!
Mobile Roulette Strategy
Unlike when you play something like Poker or Blackjack online, on land or on your mobile device, there are no moves that can be made to improve your chances of winning with Roulette games. The only place where players can influence their results is in the betting strategies that they use.
As you keep playing you will come across various Roulette strategies, and we recommended trying them all out with small amounts of money until you feel comfortable and are sure that they work for you. We also suggest starting with Outside Bets on European or French Roulette, rather than with Inside Bets or with American Roulette. Start spinning, and get familiar with the basics of the Little Wheel games and then try the more challenging wagers.
If you enjoy our mobile Roulette we are sure you will also enjoy our amazing Mobile Blackjack. Give it a try and see for yourself!