Play Mobile Blackjack Anywhere
Second only to online pokies, Blackjack is among the most popular online casino games in the world. The variations that are available at Gaming Club are all outstanding, and our powerful Microgaming software allows us to bring our online Blackjack games to you in equally-impressive mobile formats.
Whether you want to play casino games on an Android smartphone or tablet, an iPhone, an iPad or any other device, our adaptable software will be able to handle it and deliver a smoothly functional Blackjack online experience to you, right in the palm of your hand.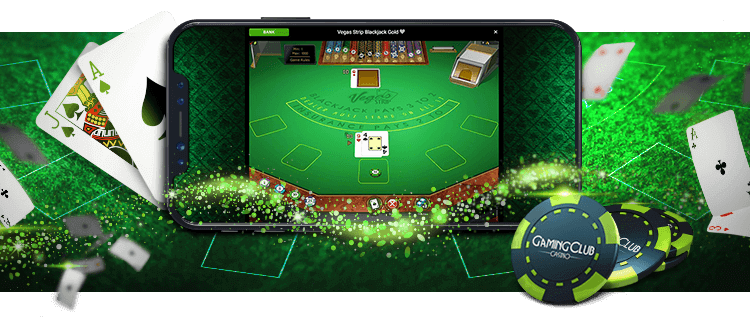 The Fundamentals of Mobile Blackjack
Playing Blackjack games on your mobile handset is very similar to when you are enjoying them at a casino online. The objective is always to get a hand total of 21, while beating the dealer's hand at the same time, and not going any higher than this number. Face cards are worth 10, number cards are worth their pip value, and Aces are worth 11 or 1, whichever works better with the hand.
Before the round begins, you need to place your bet. You will then get 2 cards, as will the dealer. You can see both of your cards, of course, as well as one of the dealer's which faces up. Based only on this information, you need to decide what to do next. This blend of chance and strategy is what makes Blackjack so intriguing and enjoyable to play.
The different versions of Blackjack at Gaming Club Casino all have slightly different rules, but in general the moves available to you are:
To Hit, and simply be dealt another card
To Split if you have a Pair of cards with the same value, and divide the Pair into 2 new hands of 1 card each. Each new hand is then dealt an additional card
To Double Down and get dealt another card, while also doubling your wager
To Stand and end your turn when you are happy with your cards
There are specific rules for when the dealer is allowed to Stand and when they have to Hit, based on their hand totals, and these regulations vary between games. When you and the dealer are both standing, all cards are revealed. You win a 1:1 payout if your hand is under 21, and the dealer's hand total is either lower than yours or over 21. If you get 21 exactly this is known as Blackjack and pays out a very handsome 3:2 return.
Blackjack Just Gets Better with Time
The more time spent playing Blackjack, the more insight into and appreciation for the game you will have. Start with the basics, and explore different game variations when you feel comfortable and confident.
There are also strategy tables for almost every Blackjack casino game, which tell you exactly what moves you should make to have the best chance of winning, for every possible card combination that you could be dealt. These will stand you in good stead to begin with, and you can branch out to other strategies and learn how to make decisions based on probabilities as you develop as a player.
In short, you'll get better, win more money and have more fun the longer you play Blackjack for. The sooner you start, the sooner you get to experience all of this, so sign up! Should you feel like experiencing a more authentic Blackjack game, make a turn to play Live Blackjack. Register your player account with us, make your first deposit, claim your handsome Welcome Bonus, and start trying to hit the hand total of 21 for yourself. Blackjack is an essential part of any online gambling experience, and you owe it to yourself to add the game to your casino repertoire!