Vegas Single Deck Blackjack Gold
Vegas Single Deck Blackjack Gold is a fantastic take on the classic casino game thanks to its superb appearance, customisable options, and fast-paced excitement. As the name implies, this game uses a single deck of cards, which helps turn the odds in the player's favour more than most blackjack games which use multiple decks simultaneously.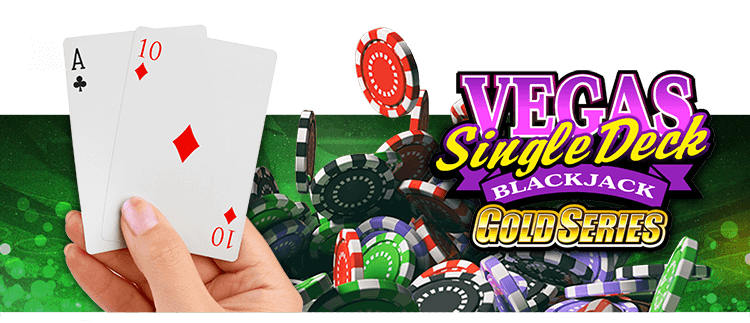 About Vegas Single Deck Blackjack Gold
Vegas Single Deck Blackjack Gold has an immersive gaming environment, complete with animations, sound effects, and an authentic green Blackjack table front and centre. Cards are clearly displayed on the table. In typical Microgaming fashion, the customisable options in this game allow for great user control and a superb gaming experience. Everything from betting to in-game rules is available at the click of a button conveniently located on-screen. For players looking to get into online Blackjack, there are many great games available but few have the simplicity and popularity as Vegas Single Deck Blackjack Gold. Pull up a table and enjoy this casino classic from the comfort of home and play on tablet, desktop, or mobile seamlessly.
How to Play Vegas Single Deck Blackjack Gold
Most Blackjack tables, both live and online, use multiple decks of cards in the dealer's shoe. While this adds a lot more flexibility, it also tilts the game in the dealer's favour. Vegas Single Deck Blackjack Gold only uses one standard 52-card deck. Consequently, players are able to compete on a more level playing field and can potentially win big. Players are unable to surrender in this version, but that's all right. This game can be played for as little as 1.00 credits all the way up to 200.00 credits, so it's a safe bet for novice players looking to get their feet wet in the world of online Blackjack.
Rules & Stats
The rules of Blackjack should be familiar to anyone who's played a hand of twenty-one. Players must assemble a hand of cards containing a value greater than the dealer's without going over 21. A Blackjack, which is an Ace and a card worth 10 (e.g. a face card), pays out at 3:2. That's quite good for a single-deck Blackjack game. Once bets have been placed, all players are dealt two cards. The dealer is also dealt two, with one facing up for all players to see. Players may then hit, draw a card from the shoe, stand, keep their current hand, or double their stake. Dealers must hit on a soft 17 (a hand containing a value of 17 which includes an Ace, which can be worth 1 or 11) but must stand on a hard 17 (no Aces).
Special Features in Vegas Single Deck Blackjack Gold
The main difference between Vegas Single Deck Blackjack Gold and most other Blackjack variants is that splitting the hand is only permitted once per round. Splitting is possible whenever the player is dealt two cards of the same value and allows players to 'split' the hand into two separate hands with the potential to win or lose on each or either independently of one another. Furthermore, players may only double their initial stake when their hands contain a hard value of 9, 10, or 11.
Play Vegas Single Deck Blackjack Gold
Vegas Single Deck Blackjack Gold just so happens to be amongst the more popular online Blackjack games thanks to its unique gameplay, pace and great visuals. Whether you're new to online blackjack or an experienced player, this game comes highly recommended, so don't hesitate to give it a go and see what all the excitement is about.