Wolf Cub
As the title suggests this casino game is based on the famous wolf cub from the Arctic region. Brought to you by NetEnt, one of the most respected game developers in the world, this game brings you the cuteness of wolf cubs as well as some excellent chances to win large cash amounts. The cubs are looking for someone to provide them with some kindness and warmth and will reward anyone who does with cash prizes. Spot three or more of them to win. If they like you they will howl and this howling brings even bigger prizes in the form of free spins with the chance to win even more money.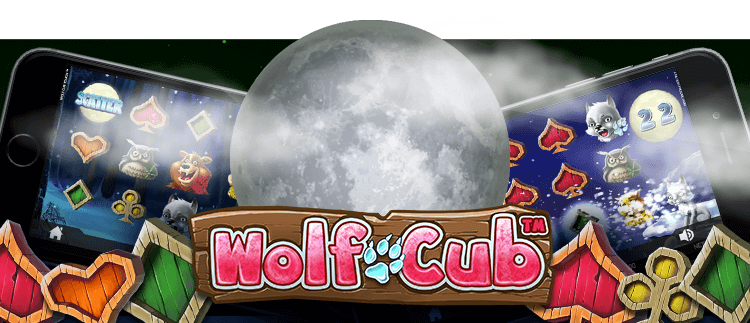 How to Play Wolf Cub
To start gameplay the first thing you need to do is decide on your coin value. This can be anything from 0.01 to 1.00. You then need to decide if you want to use the max bet function or the autoplay feature. The max bet function allows you to set the amount you will bet for each spin with just the touch of one button. Autoplay, however, lets you spin the reels automatically for a set number of times. You then need to start spinning the reels. In order to win you need to match up five symbols. As with other online slots, however, wild symbols can count in the place of any other symbol in order to create a winning combination. Symbols that can be found in the game include; wolf cubs (which are all differentiated by different card suits), white, cub, brown cub, deer, crows, kittens, a moon icon which acts as a scatter symbol and a cub footprint which acts as a wild symbol. There are 5 reels and 20 pay lines featured on the game, giving you plenty of chances to win.
Wolf Cub Rules & Stats
Wolf Cub has an extremely high RTP. At 96.34%, it is very competitive amongst other slots and offers players a high chance that they will win back some money. This casino game is also extremely easy to understand. It follows the same format as other slots but it does have some special features that make gameplay interesting. It is worth noting that the free spins feature is activated once three scatter symbols are matched. Once this is activated all the reels that have scatter symbols on them will transform so that they now have numbers on them. Free spins will be awarded based on the total of all the numbers displayed when the reels stop spinning. The maximum amount of free spins that can be awarded is 115.
Special Features in Wolf Cub
Wolf Cub does have its very own special feature in the form of the blizzard feature. This can be activated whilst the free spins feature is in operation. To activate it you have to land a stacked reel whilst playing the free spins feature. It means that all the symbols that match up with the one on the stacked reel will move closer to that reel, thus increasing the chances of landing a winning combination. Wild symbols will also be included in this feature, so long as they feature on the stacked reel which activates it. This feature could be especially lucrative for players because it gives them the chance to land the jackpot of 2000 coins. All they need to do to win this is land 5 of the wild icons. Any winnings that are earned during the free spins and blizzard feature will be added to the player's account once the feature comes to an end.