Untamed - Giant Panda
China's national symbol may be the mighty dragon, but internationally the panda is the more popular symbol. Microgaming's Untamed - Giant Panda is a fun and engaging slot game full of cuddly black and white pandas that are wonderfully brought to life by colourful depictions of pandas and a bamboo forest background as their habitat.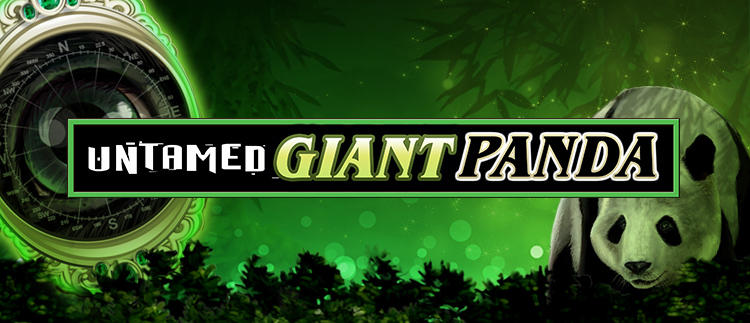 About Untamed - Giant Panda
Untamed - Giant Panda's aesthetic is clean and natural in design, full of lush green foliage and bamboo trees in the background. The play area is clean and free of clutter. The soundtrack is Asian-inspired and adds to the immersion and calm, relaxed ambience.

The game's colourful panda symbols are nicely detailed artistic representations that become animated whenever a winning sequence is formed. Animations aren't as over-the-top as with many other titles but are a nice touch that doesn't detract from the spinning action.
How to Play Untamed - Giant Panda
In true Microgaming style, Untamed - Giant Panda is a straightforward slot game that's easy to pick up and play. This makes it an appealing game for new players, but there's enough variety and bonus features to keep veteran players interested round after round.
The game's symbols must form a sequence of matching symbols in order to receive a payout according to the payout table. The symbols include a variety of baby and adult pandas, a bamboo forest in Sichuan, and the high cards from poker (10, J, Q, K, A).
Untamed - Giant Panda Rules & Stats
Untamed - Giant Panda has 243 ways to win, which is a lot but it's also quite typical. Essentially, nearly any sequence of matching symbols can complete an eligible payline, which means you'll be winning frequently.
In terms of betting, this slot game is appealing for players with a smaller bankroll as bets can range from as small as 0.01 up to 22.50. For those looking for big wins, coins can be adjusted to up to 15 coins per round.
Special Features in Untamed - Giant Panda
Players can take advantage of a number of special features in Untamed - Giant Panda. They are as follows:
Lucky Nudge: the peeking eye of the curious panda bear will appear on the reels from time to time and nudge above or below the reels in order to trigger the game's bonus free spins feature.
Collect a Wild: collect four Untamed - Giant Panda symbols above a reel to transform the entire reel into wild symbols for the next four spins.
Brilliant Wilds: any Untamed - Giant Panda symbols that appear during free spin rounds will stick to their reel positions for the following free spins.
Another important bonus feature that players can take advantage of for big winning potential is the Your Gamble game. Whenever you land a winning sequence during the normal game, the Gamble button appears, which takes you into the game's bonus feature that can yield up to 20x winnings.
A radar screen appears with a red and green section. Players must then spin a dial and hope that it lands in the green section of the radar. If this happens, your previous win from the normal game is boosted by a given amount. It gets interesting, however, when players can increase the size of the red area, which makes it harder to win but rewards much higher payouts.
Play Untamed - Giant Panda
There are some great special features in Untamed - Giant Panda which add a nice touch to this already enjoyable casino slot game. With an engaging design and soothing yet exciting feel, extra wins and free spins can boost winnings and add variety to this lovely panda-themed slot game. Rockabilly Wolves, is another fantastic slot game featuring a majestic Wildlife Animals!