Reel Rush
Reel Rush is a vibrant and innovative slot game developed by NetEnt - one of the world's leading game studios. The colourful online slot has been designed with 5 separate reels and 5 rows, and you can win in an unbelievable 3125 different ways! The game is reminiscent of some of the old classic slot machines with its fruity icons nodding to games of the past. But Reel Rush brings everything right up to date with its own unique style and incredible features..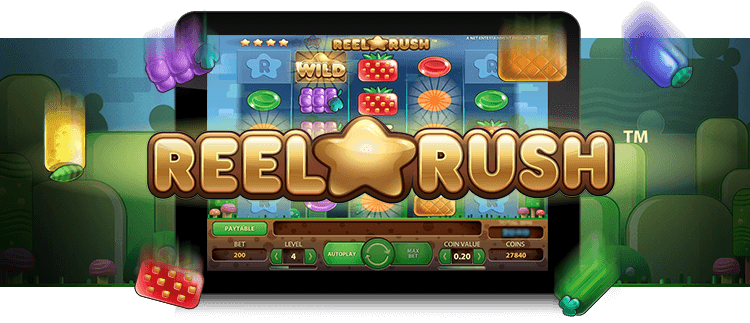 How to Play Reel Rush Slot Game
To play the game, you will have to first select your coin value and bet level. After making your bet, you can select the number of spins you want to run consecutively. You will use the autoplay feature to set these bets. Once everything is set, you can spin the reels and wait for them to come to a stop. If you land a winning combination, you will get a prize and will be granted a respin. After five respins, you will be granted eight free spins to give you even more chances of winning prizes.
Rush Reel slot has a unique appearance. Unlike many other slot machines, it has a geometrical reel configuration. There is a single symbol on the first reel, three on the second reel, five on the third reel, three on the fourth reel, and one symbol on the fifth reel. With the initial reel format, you will have 45 ways of winning. But the respins and free spins will open up more spaces for the symbols and allow you to win in 3125 different ways. The game is compatible with Android, iOS, Windows, Linux, and Mac devices.
Reel Rush Rules and Statistics
Rush Reels has been a popular choice with online slot players for many years, and many people have been able to win sizeable amounts of money from the game. The machine has a return to player rate of 97 per cent. You will not enjoy a progressive jackpot with this slot, but there is a huge jackpot available. The 1000-coin jackpot will be won when five Strawberry symbols appear on a payline.
In this game, you cannot trigger additional free spins during a free spin round, and all free spin games are played with the same coin value that you selected at the start of the game. The win lines always run from left to right, and if you want to see what a specific combination earns you, you can simply refer to the pay table or win plan. Some symbols will win you more money and others will win you meagre amounts. The win plan button can be found at the bottom left of the screen.
Special Features In Reel Rush
Reel Rush has many interesting and exciting features. First, the wild symbol of the game can replace all other symbols, and if you get a winning combination, you will earn a respin. This is regardless of the amount of money you have won.

The wild symbol in this game is labelled 'WILD' and is easy to spot. The round middle button at the bottom of the screen can be used to start and stop the reels. If you have a problem with the animations and graphics in the game, you have an option of turning them off.

You can get additional features of this game if you click on the wrench. Some of these features include game history, the ambience sound on or off, a quick play feature, and the option of starting the reels with the spacebar of your keyboard.
Play Reel Rush
Reel Rush is a fun looking game with some great features that make for an enjoyable play experience. If you like Reel Rush, take a look at our other fantastic online slot games and don't forget, we offer up to $350 in deposit match bonuses for new members.