Lara Croft Tomb Raider Slot Game
Any gamer will surely recognise the name, Lara Croft. She has certainly been synonymous with video games since her incarnation in 1996 and her popularity seems to keep on growing.
The Lara Croft Tomb Raider slot game, should, therefore, be a must-play for anyone who has enjoyed the video game in the past, even if only for reasons of nostalgia. The slot game borrows heavily from graphics within the game, even the background music makes players feel as if they are within the video game itself.
The game has a simple feel to it and is so easy to play, with the chance to win big, that even those who weren't fans of the original video game will enjoy spinning a reel or two.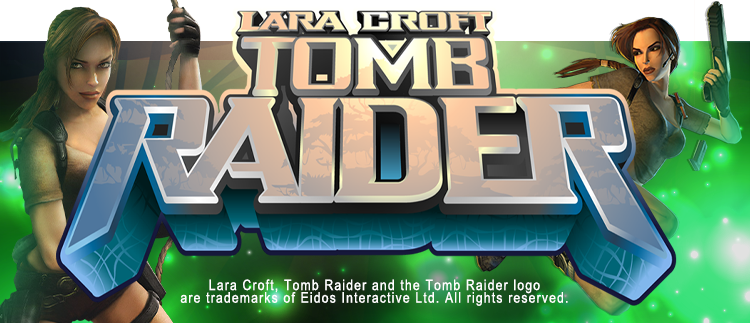 How to Play Lara Croft Tomb Raider Slot Game
The action in the Lara Croft Tomb Raider slot is all set on a 5-reel slot with 15 pay lines. This is smaller than some modern slots that you might come across but it almost feels like a welcome relief to not have so much happening every time that you spin, it certainly feels much calmer. The first thing that you will need to do before you play is to decide your coin size. A spin on this game can cost players anything between $0.75 and $37.50.
As with any other slot game, the aim is to match three or more symbols in order to win a cash prize. The symbols that players can play with on the Tomb Raider slot include card symbols from a 10 all the way up to the ace as well as a tiger, Lara herself, and the circle and triangle symbol directly from the game. These symbols have been listed in ascending order of how valuable they are in the game.
If a player were to match the circle and triangle symbol, for instance, their cash prize will be a lot bigger than if they happened to match three 10 symbols. There is also a wild symbol to look out for, the Tomb Ride logo can substitute for any symbol, helping to increase your chances of winning.
Lara Croft Tomb Raider Rules and Stats
The Lara Croft Tomb Raider slot game has a healthy RTP of 96.5%. The game could be classed medium-high volatility. This means that wins happen less often than they would on games with lower volatility but that players are likely to win more cash when they do win. Whether this suits individual players depends entirely on their own playing style.
Special Features in Lara Croft Tomb Raider Slot
There are a couple of special features which deserve a mention in the Lara Croft Tomb Raider Game. The first is the bonus spins feature. This is activated if you land three or more scatter symbols, which are depicted by the symbol of Lara holding two guns. Any player landing this combination will receive 10 free spins. While they play through these spins any prizes that they win are automatically multiplied 3x. You can even re-trigger the bonus spins should you land the three scatter symbols again during play.
The second feature is the tomb bonus feature. This can be accessed by landing three bonus symbols, which are depicted by a stone idol. Once accessed players can choose from a number of stone idols to reveal cash prizes. The number of stone idols that they can choose will depend on how many they matched in the original combination. If they matched 5, for instance, they will be able to pick 5 stone idols, all with different cash amounts that will be automatically added to their balance. Once chosen players will be automatically sent back to the main game to continue play.