Jurassic Park
Jurassic Park from Microgaming successfully captures the suspense and excitement of Steven Spielberg's classic film of 1993 which provides this thrilling slot game with its theme.
The dinosaurs have been scientifically engineered to become living exhibits in an unusual theme park. But instead of remaining docile they have reverted back to their ruthless, dangerous temperaments. The most scary carnivorous dinosaurs such as Tyrannosaurus Rex and Triceratops suddenly appear on screen to give players an enjoyable fright. The authentic sound effects of snapping twigs and roaring monsters combined with incredibly fast play make Jurassic Park a slot game you'll love to play regularly. It's available on multiple platforms including Flash and Quickfire. It's easy to play, and provides plenty of opportunities to unlock generous dinosaur bonuses.
The innovative three-dimensional graphics are superb and enhance the player's appreciation of being immersed in a prehistoric landscape. The use of parallax scrolling technology allows the backgrounds to move at a slower rate than the forward action. Atmospheric jungle scenes taken from the film increase the feeling of suspense as you never know what is lurking in the dark corners. As jungle vines drop over the screen it's not long before a money-spinning dinosaur appears to jump out of the screen through the exciting 3-D imagery.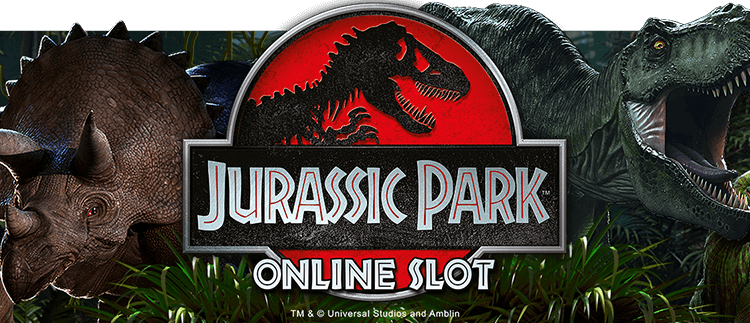 How to play Jurassic Park
There are three rows of five reels which provide a massive 243 fixed paylines which pay across multiple rows bringing some very exciting rewards. As in any other online slot game you simply spin the reels and match at least three symbols to win generous cash prizes. The main symbols are the film's leading characters of Alan Grant, John Hammond, Ellie Sattler and Ian Malcolm who are struggling to combat the fiendish dinosaurs. The scatter symbol is a mosquito embedded in amber. Land between three and five scatters to earn up to twelve lucrative free spins. Activating the free spins feature starts the amazing sequence of dinosaur bonuses that can lead to exciting cash prizes and bonuses.
Jurassic Park Rules and Stats
Each spin costs between 0.30 to 15 coins with an upper limit of 30. There are many smaller wins to be won but the thrilling jackpot is 6000 times the amount of your original wager. There is an automatic play facility but you'll have far more fun playing Jurassic Park in person. The medium variance combined with a high 96.7% RTP (Return To Player) provides the formula for a steady flow of small to medium wins with frequent, generous rewards to keep the suspense of prize-winning fun at almost every turn.
Special Features in Jurassic Park
The dinosaur bonus feature makes Jurassic Park great fun to play. It features a series of five of the fiercest dinosaurs appearing in succession. It's activated when landing three to five scatter symbols for the first time. It begins with Tyrannosaurus Rex which can earn you up to thirty-five stackable wilds during the next six spins that you pay for. The more free spin rounds you gain the more you progress through the dinosaur bonuses. Triceratops brings numerous free spins and running wilds. Dilophosaurus features generous running wilds. Brachiosaurus has a multiplier sequence to generate great cash prizes. If you accumulate at least twenty-five free spin rounds, you're rewarded with Velociraptor which includes split and multiplier wilds that present endless possibilities for winning very generous prizes. If you meet all five dinosaurs, you can choose to continue playing with your favourite sequence.