Jungle Jim Online Slot Game
While there have been sequels to the Jungle Jim slot game, most notably Jungle Jim El Dorado, nothing quite beats the simplicity and sense of adventure that emanates from the original.
This online slot game from Microgaming has been popular for a number of years and for good reason, it has so much charm about it. Plus the main character, Jungle Jim himself, is so loveable. The animated style background depicts our intrepid adventurer as he heads off into the jungle in search of treasure. In a style reminiscent of cartoons that players probably used to watch on TV on Saturday mornings, this really is a nostalgic and fun-filled game.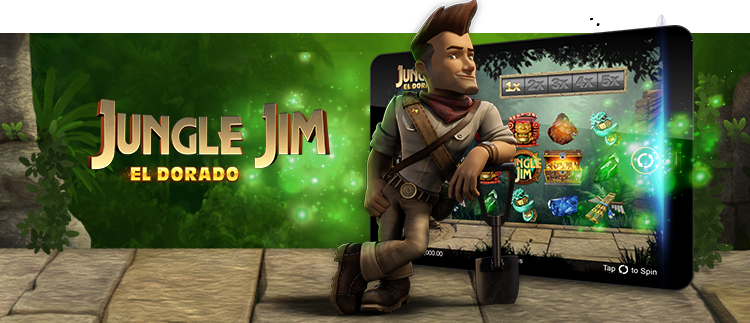 How to Play Jungle Jim
All of the action in the Jungle Jim slot game takes place on 5 reels with a grand total of 15 pay lines. These represent lots of chances for you to win some serious money. There are plenty of symbols available for you to land, all jungle-themed. You can expect to see anything including panthers, piranhas, snakes, spiders and flesh-eating plants.
Think of all the things that might cause you troubles in an actual journey through the jungle, except in the game version they might just help you on your way to the riches hidden in the deepest part of the jungle.
There is also a scatter symbol to look out for as well as a wild symbol which is represented by a treehouse, bushes and palm trees on the horizon. There is also a special bonus symbol which is represented by a crocodile.
Jungle Jim Rules and Stats
The Jungle Jim slot game really plays like any other slot. This casino game was created before the modern craze for bonus packed-games, so you can expect more modest gameplay and simplicity. This is one of the reasons why many people love the game, however, for many, it is all about nostalgia. We know there are gamers out there who love bonus features but there are also many who can grow weary of them and that is where old favourites such as Jungle Jim come in.
The RTP on this slot id 95.98%, which is healthy but does mean that it might not be suited to those who are more risk-averse. Players will also enjoy the scatter symbol which enhances wins and can act as a multiplier, making wins even bigger and more exciting. The luckiest players could even receive a 5x multiplier and earn themselves some serious money. The top prize within the normal round is 4000 coins. With a maximum coin value of $25, that could be a potential win of $100,000.
Special Features in Jungle Jim
You might have gathered that Jungle Jim isn't exactly packed full of features. There is a free spin bonus round, however that players should really watch out for while they are playing. If players land three bonus symbols, which are represented by a crocodile on any of the pay lines then they can get access to this feature. It is recommended, therefore, to keep as many pay lines open as possible if players really want to go for this feature.
Once you access the feature you will see 5 different crocodiles. Players need to choose one of these crocodiles to determine how many free spins they will receive, with the maximum being 10. The game will then repeat this process to determine how much of a multiplier the player will receive, with the maximum being 5x. In this section of the game a player could walk away with a huge prize of 100,000 coins. That is certainly not a jackpot to be sniffed at.