Fruit Shop
Fruit shop is a slot with a fruity twist which is brought to you by NetEnt. Released in 2017, this game has a nostalgic feeling to it, mainly because the image of fruit is iconic when it comes to slots. The game does also have a modern twist, however, with fruit images that are bright and really pop out of the screen. With 5 reels and 15 bet lines, the interface of the game resembles many other slots that you might have come across. Colourful fruits, including cherries, watermelons, lemons and plums adorn the reels as does The Fruit Shop logo which acts as the wild symbol. There are also letter and number symbols to give you more to look out for when playing the game.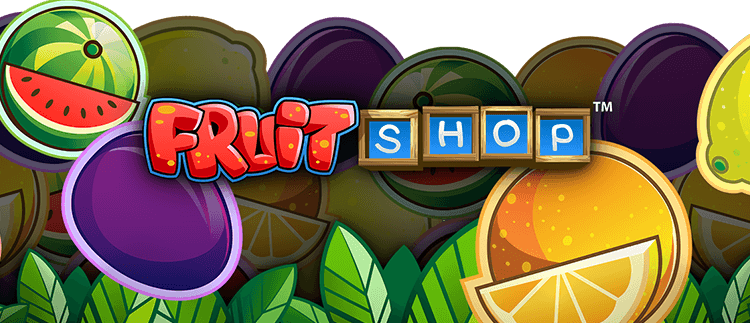 How to Play Fruit Shop Slot Game
As with any other slot, the first thing to do is to set your coin value. This can be anywhere between 0.01 and 1, set it based on how much you are prepared to spend. Then it's time to head to the game and start spinning. You can do this by pressing the green button every time you want to rejig the reels or you can use the auto spin feature if you prefer. In order to win, you need to match three symbols on any of the pay lines. Each symbol corresponds to a different amount. You can also use Wild Symbols to replace a symbol if you need to, these give you an extra chance to win.
Fruit Shop Rules & Stats
Fruit shop has an RTP rate of 96.7%. This means that typically, for every $100 spent over a long period of time, players should expect to receive back $96.70. This isn't black and white, averages are calculated over a long period of time so some will receive back more than others. The figure just gives you an idea of the likelihood that the game will payout. As far as slots go, this is a great RTP. The rules of the game are fairly simple, match any three fruits and you will win the corresponding amounts. It really is a classic game. There are, however, some special features which really add to the fun of the game and make it extremely playable. You should also know about the jackpot. This is set at 2000 coins and is won when you spin 5 cherries on an active pay line.
Special Features in Fruit Shop
One of the biggest draws with the Fruit Shop slot is the free spinsfeature. The free spins feature can be triggered in a few different ways. Spinning 2 cherries, for instance, gets you 1 free spin while 5 earns you a whopping 5 extra turns. The other fruits can all earn you extra goes too. If you spin 3 of these you will earn yourself 1 free spin while 4 will earn you 2 and 5 will get you 3 extra chances to win the jackpot. The wild symbol also drastically increases your winnings, should you manage to trigger one. Your winnings will instantly be doubled. If you trigger one during the free spins feature, you will quadruple your earnings.
Fruit Shop really is a fantastic game, with so much potential to win big. The interface is incredibly fun and engaging, you will really enjoy playing a few spins on this remake of a classic slot.