Dolphin Coast Online Slot
It's no secret that dolphins are amongst the smartest mammals, so you'd be quite clever to follow their lead and pick up the action in Dolphin Coast's slot game. Dolphin Coast doesn't try too hard to distract players and instead opts for a fun and refreshing experience. Hearts and Tarts is another fun title available, within our slot game portfolio.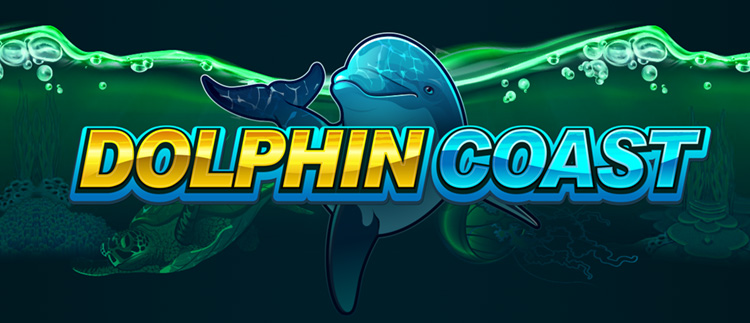 About Dolphin Coast Slot Game
Dolphin Coast has familiar elements you'd expect only with a lighthearted under-the-sea theme. This includes a simple, catchy soundtrack, vibrant colours, graphics, and animations, and a user interface that's intuitive, crisp, and clean, which lets players spend more time spinning and less time fidgeting with options.
The play area is also clean and free of distractions, containing five reels with five rows each. The game's background is a clean marine blue colour palette with coral and seaweed visible. As with many online slot games, Dolphin Coast is available across multiple devices for convenience.
How to Play Dolphin Coast Slot Game
Playing Dolphin Coast is as easy as placing a bet and spinning the reels to reveal a winning sequence of symbols. This is made all the easier with the game's multiple ways to win. While most online slot games have up to 243 ways to win at most, Dolphin Coast goes the extra mile and allows players to win in up to 3,125 ways.
In terms of symbols, Dolphin Coast has the poker high cards (10, J, Q, K, A), the Starfish, the Red Bass, the Jellyfish, the Striped Fish, the Seahorse, the Sea Turtle, and the Dolphin Coast logo. Line up any of these across an eligible payline and you'll receive the corresponding payout.
Slot Game Rules & Stats
The game's wild and scatter symbols are represented by the Dolphin and School of Fish, respectively. The clever little Dolphin is a sought after symbol because it's able to substitute itself freely for any missing symbol in order to form a winning sequence. The only exception to this rule is that it cannot substitute for the scatter. It will only appear on reels two and four, but it may sometimes appear stacked on a reel as well.
The game's scatter symbol allows players to earn anywhere from 15 to 25 free spins if three or more scatter symbols appear on the reels. During the free spin rounds, the Dolphin symbol may appear on any reel except the first, adding more potential for wilds to appear during the bonus round.
Special Features in Dolphin Coast Slot Game
There are no special features in Dolphin Coast aside from the game's scatter bonus and free spins round, but that's all right. In fact, its simplicity is what keeps it familiar; its over 3,000 ways to win gives it a unique touch that sets it apart from the competition. There doesn't need to be a lot of complex features in every game, and sometimes players prefer simplicity since it gets straight to the point of spinning those reels.
Play Dolphin Coast
If you're simply looking for a fun slot game experience that is simple but fun, Dolphin Coast is one of many slots you can play at Gaming Club. It has enough winning potential amongst the highest number of ways to win that can keep players winning frequently and spinning round after round.