Copy Cats
This highly entertaining slot game whisks you off to a typical suburban setting filled with the houses and gardens that all cats love to play in. The high-quality graphics are drawn in the bold and colourful cartoon style that is such a distinguishing feature of NetEnt's vast collection of premium online slots.
The cute and cuddly cats are a selection of red, blue and pink moggies and they are sometimes joined by a special golden cat who represents the wild symbol. Together, they all prowl along to a cheeky, jazz-inspired music track that tinkles away in the background.
The Copy Cats slot game can be enjoyed at any time of day or night. It is available for plenty of fun play across all formats and is optimised to play on all devices.
You will find the theme of Copy Cats makes an uncomplicated and relaxing slot that is always great fun to play. And you don't even have to be a cat fan to enjoy its steady stream of cash rewards if luck is on your side.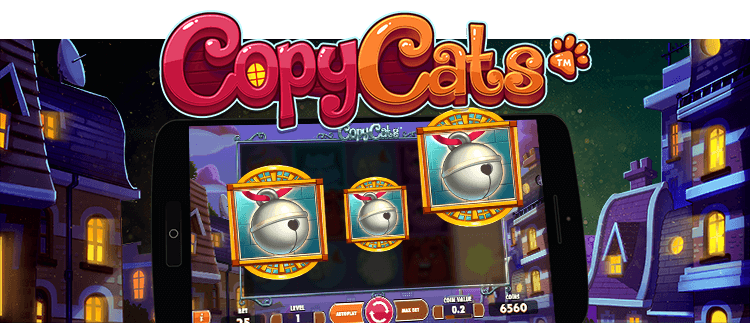 How to Play Copy Cats
The game is played over a familiar grid of five reels and three rows. There is a total of twenty-five payout lines which read from left to right. The symbols with a high cash value include bottles of milk, toy mice and the remains of a fish supper while the cat paw prints are rated much lower.
The most sought after sequence of this fast-paced slot game is to cover the three rows of the first reel with a set of matching cats. This instantly activates NetEnt's unique cat copying feature of transforming every other cat on the screen to match the felines in the first reel.
Any golden wild cat symbols that are present in any position are also transformed. It's a simple routine that can lead to some particularly lucrative cash wins.
Copy Cats Rules and Stats
The Return To Player (RTP) rate is 96.76% and is combined with a low variance. The game allows you to customise your stake and wagering preferences. Coin sizes can be adjusted from 0.01 to 0.5 and you can choose to place up to ten wagers on each line. The maximum total bet allowed is 125 coins.
There isn't a progressive jackpot here but you'll find the betting options and generous RTP more than compensate.
Special Features in Copy Cats Online Slot Game
This slot game with an engaging cat theme appeals to players of all experience levels with its straightforward game play. However, apart from the cat copying feature there is also a bonus round. In keeping with the simplicity of the game, the bonus is literally ten free spins. The free spin round is instantly activated whenever you land three of the cat's bell scatter symbols anywhere on the screen although you'll only find them on the first, third and fifth reels.
The bonus round can be activated again at any stage of the free spin sequence which can lead to an astonishingly high number of cash prizes.
Play Copy Cats
If you like a fun to play slot game with plenty of fast action without the clutter of complicated bonus rounds then why not give Cop Cats a try? You don't even need to be a cat lover to appreciate it's fun gameplay and winning potential. If you're really not into cats though, check out our huge range of slot games, with hundreds to choose from here at Gaming Club.