Break da Bank
The Break da Bank slot game proves to be one of the most popular casino games around. Created by Microgaming, this game is well-loved all around the world and has inspired many spin-offs and sequels.
Perhaps it is the fact that the game is so easy to play or it could be the theme, which sees players attempting to rob the bank, which makes the game so popular. Whatever it is that players love so much, it seems that this is a game that will stand the test of time.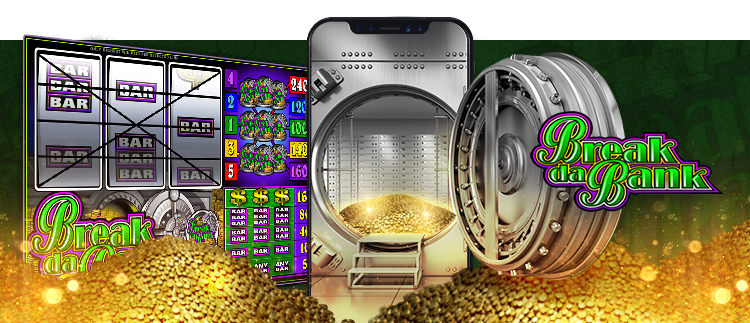 How to Play Break da Bank
The Break da Bank slot game is incredibly easy to play. In this game, the fun really is in the theme, there is nothing confusing that you have to look out for to make the game more enjoyable. You simply have to hit the spin button and wait and see if you can match any symbols.
This is a three-reel online slot game with five pay lines. This might be considered small in today's standards, where games often feature masses of pay lines but it does look great on the screen and helps you to see all of the information that you need at any one time. The low number of reels and pay lines also means that players only need to get to know about a handful of symbols and combinations.
There are bar icons to look out for including 2 bar and 3 bars as well as dollar signs and slot logos. Each of these creates a win when you match three or more symbols, whilst players can also match 5 mixed bar symbols to create a win. The Break da Bank game logo also acts as the wild, helping players create those winning combinations.
Break da Bank Rules and Stats
Firstly, it is worth noting that with a minimum stake of $1, the Break da Bank slot game is probably not for the low-rollers among us. With a jackpot of 2400 coins, which could end up as a cash prize of $60,000 should you bet with the maximum stake of $25, this game certainly does offer a great incentive to play, however.
The RTP of the game is set at 95.75%. Whilst this isn't as healthy as some slots, it is still exciting enough to make having a gamble on this game worthwhile and that jackpot certainly offers a lot to play for. In order to win this huge cash prize players simply need to match 3 game logos across the pay lines, there is no silly bonus game to contend with in this slot. How much they will win depends on where these logos appear. The largest jackpot of 2400 coins is awarded when they appear on the fifth pay line, while the first offers 1000, second offers 1200, third offers 1400 and fourth offers 1600.
Special Features in Break da Bank
As already mentioned the joy of this game is really in the simplicity of the gameplay, it doesn't need any special features in order to pull players in. The wild symbol, which is the Break da Bank logo, is the best feature that players should look out for. As previously mentioned, this will not only help players when it comes to making winning combinations but it will also help boost the amount that they pocket from the game.
For instance, when a win involves a wild symbol, it will automatically double the winnings. All in all, this is a simple game which offers players the chance to win a huge amount of cash. It has been loved for many years and will continue to remain popular with those who just love the thrill of the spin.