Book of Oz
We're off to see the wonderful wizard in the exciting Book of Oz slot game from Triple Edge Studios. Book of Oz is based on the source material from Frank L. Baum's early 20th century The Wonderful Wizard of Oz and related works rather than the famous film from 1939.
Consequently, many of the familiar imagery from Dorothy's dream of her odyssey to Oz is missing, although you may be pleasantly surprised by the fresh take on an imaginative classic.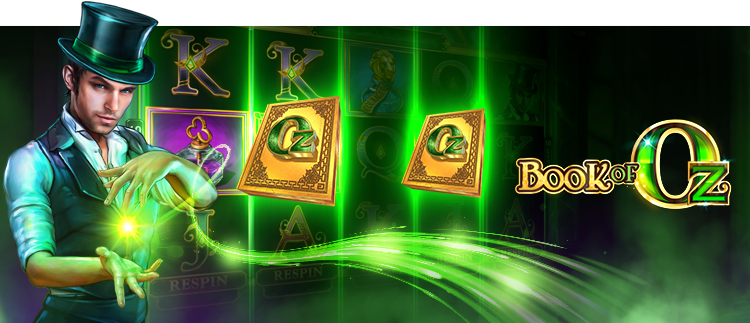 About Book of Oz
The Book of Oz slot game is not only colourful and lively, but it's also easy to pick up and play. Don't be fooled by its looks, however, as a stroll down this yellow brick road has plenty of surprises along the way. Bonus features such as respins make Book of Oz more engaging and exciting as you play.
The game has five reels, with vibrant expanding symbols. Whether you're a novice slot game player or a seasoned veteran, Book of Oz is entertaining and worth a try.
How to Play Book of Oz
As with most online slot games, Book of Oz is fairly straightforward. Line up sequences of matching symbols across 10 fixed paylines on the screen and you're a winner! Coins can be bet in increments of 0.01 all the way up to five coins per spin, with the top coin bet set at 2.00 up to a maximum of 100.00 per spin.
Simply place your bets and spin; symbols that match across your desired payline will reward winnings ranging from the more frequent, lower-paying symbols all the way up to the Wizard of Oz himself, who grants a whopping 5,000x multiplier on a line bet with five matching symbols.
The symbols may not be familiar to fans of the 1939 film, so it's important that you understand which symbols are used in this adaptation. That means Dorothy and Toto are nowhere to be found, but instead you can expect 10, J, Q, K, and A symbols, as well as the rarer and less frequent potion symbols, which are heart, brain, and courage. The last few ought to be familiar as they're represented by the steel man, strawman, and lion from the film. The rarest symbol is the Wizard, so if you unveil this powerful wizard, you may be able to win big.
Book of Oz Rules & Stats
Book of Oz may feel pleasantly simple to learn, it's got a few unique rules that you should be aware of if you'd like to maximise your winning potential.
Firstly, the 10 paylines are fixed. Sequences with the 10, J, and Q are low-paying (5x-100x) whilst landing 3-5 K or A symbols bear higher rewards (5x-150x). Whenever you land two symbols of a kind up to five, the courage potions appear. Heart and brain potions pay anywhere from 5x to 750x, whilst the courage potion pays from 5x to 2,000x. The Wizard pays 10x your line bet.
Special Features in Book of Oz
One of the most exciting features in Book of Oz is its respin feature. If you get frustrated by spins that are just one symbol off from rewarding a jackpot, respins are a great solution. After each spin, the player is permitted to pay a small bet in order to respin a reel. For spins with less potential to be a winner, the amount paid is smaller than for spins that are very close to being a winner.
Also bear in mind that Book of Oz has a few other bonus features that set it apart and make it an enjoyable experience, including a scatter feature, free spins, and the elusive Book of Oz symbol which yields its own set of bonus rewards.