Berry Burst
With a mouthwatering fruity theme, Berry Burst features a lovely Cluster Pays format for exciting gameplay for players of all types. Thanks to the presence of Wilds and respins, there are plenty of opportunities to earn greater and greater rewards. With a maximum prize of 5,000 times the bet amount, it is possible to have some incredible payouts if luck is on your side.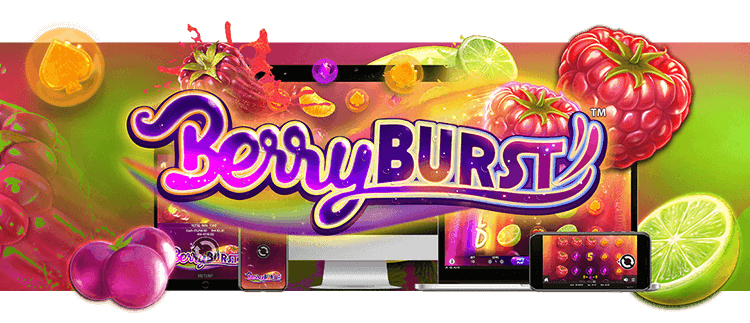 How to Play Berry Burst
This game features a wide betting range across a 10 payline format. Bets range from as low as $0.10 to as high as $200 per line which makes it an excellent choice for everyone regardless of budget.
For those that do not want to press the spin button repeatedly, there is an autoplay feature. The options include the ability to automatically play as many as 250 rounds with the ability to stop early if you win or lose a certain amount. You can also stop the autoplay manually at any time.
Berry Burst Rules & Stats
The Berry Burst slot game has an expected return to player rate of 96.56%. In order to win, symbols must appear in clusters of 5 or greater. Fortunately, the cluster format means that the symbols do not have to appear in paylines in order to be counted, they just have to be adjacent to at least one other matching symbol. This means you are more likely to come across a winning configuration.
These combinations come from 7 different fruit symbols. Of these, 4 are high-paying and 3 are low. The following is the maximum payout for each symbol:
Diamond: 1,000 times bet
Spade: 1,000 times bet
Heart: 1,000 times bet
Lime: 2,500 times bet
Grapes: 2,500 times bet
Orange Slice: 3,000 times bet
Raspberry: 5,000 times bet
It is worth noting that the payout is calculated by the value of the coin bet and not the total amount. This means that if you stake $1 with a coin bet value of $0.10 and you win the maximum amount of 5,000 times your bet, you will win $500.
Remember that this is one of the key differences between different online slot games. Some pay based on the value of the coins bet and some on the total stake. Once you have decided which you prefer, always check to see if a new game has the right type.
Special Features in the Berry Burst Slot Game
This game has some incredibly generous special features. When the Wild symbol appears it will expand to fill the entire column. It then acts as every kind of symbol to provide lots of new opportunities for links.
Then, it even remains for another free spin all but guaranteeing two wins in a row each and every time it appears. If that free spin reveals another Wild symbol then you get to keep going with another free spin. This will happen until the chain break and new Wild Symbols stop appearing.
While this is the only special feature, it happens about once every 4 spins which means that every 16 spins or so will feature two Wilds in a row. This is an excellent way to earn free spins so you will not be missing any of the other common free spin mechanics.
Play Berry Burst
Berry Burst provides a vibrant and refreshing take on the slot game format, with it's beautifully fruity graphics and juicy bonus features. Just one of the many slot games available here at Gaming Club, Berry Burst is certainly worth checking out if you enjoy colourful and exciting online slots!