Asgardian Stones
Asgardian Stones is a stylish online slot game with an outstanding theme centred on Nordic myth. The game's overall design has an incredible dark and ancient look combined with bold flashes of mystical power. With fantastic stony textures, lighting effects and atmospheric sounds, Asgardian Stones is an exciting and feature packed slot game from leading game developers NetEnt.
The game 5 reels, 3 rows and a total of 20 paylines and incorporates a number of famous characters from Nordic mythology in the Hall of Gods, like Odin, Loki and Thor. It's a great game to play for anyone seeking unique adventure whether you're already a fan of Norse gods or not.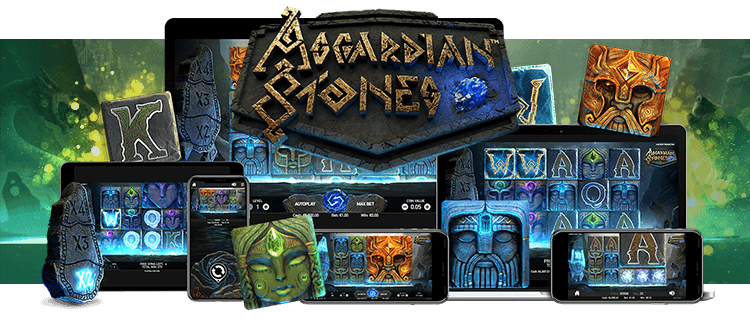 How To Play Asgardian Stones
Whether you are an experienced online gamer or new to online slots, you will find Asgardian Stones simple to start playing. To commence, you will be required to enter the amount you wish to bet. There are numerous controls to help you increase the value or reduce it. Once you have placed your stake, go ahead and spin the reels by pressing the spin button.
After several rounds, the reels will reveal the numerous combinations. If you are lucky enough to have the winning combinations positioned on any of the 20 paylines, your account will be credited with your winnings. Another option is to use the maximum bet feature which comes in handy when you want to instruct the system to place the maximum available stake and automatically spin the reels. There is also an autoplay feature that allows you to play without manually spinning the reels.
Asgardian Stones Rules & Stats
Like many other slot games, Asgardian video slot comes with several rules. One of the basic rules is that you can only spin the reels after placing a stake of coins ranging from 0.20 to 200.00. The total number of coins you can place is 20. There are also several symbols that you should take note. The game comes with an RTP of 96.31.
Among the symbols used in the game is the colossal symbol that is made up of a block of 2x2 or 3x3. These symbols are designed to be displayed either wholly or in a partial manner. It all depends on how the reel will stop. When colossal symbols occur in a winning line, they explode. This will trigger the existing symbols to drop. New symbols then come about.
Special features in Asgardian Stones
There are several unique features in Asgardian Stones. The first special feature is the wild symbol. This is represented by the W run symbol. The wild symbol can replace all other symbols except the bonus wheel. There is the avalanche feature which doesn't need a spin for symbols to fall in place. The avalanche feature is designed to continue until there are no more winning combinations left on the paylines.
For those interested in free spins, you will have to watch out for the bonus wheel. This can bring forth either free spins or coins. If the bonus wheel stops on the field, the system gives you 5 free spins. The bonus wheel can also multiply your winnings by 1, 2 or 5. Your winnings can also be multiplied to x36.
Play Asgardian Stones
Asgardian Stones is a fully featured and great looking slot game with an exciting theme, that's both seeped in mythology and packed with action. If that sounds like your thing then take the game for a spin, and remember, we offer generous deposit match bonuses for new members. If you'd like to explore more exciting slot games, we've got plenty for you to try here at Gaming Club.