Adventure Palace Online Slot
Adventure Palace welcomes you to an exciting jungle themed quest in which you've momentarily escaped from the real world and travelled to a place filled with trees, animals and birds. Will you discover riches during the course of your adventure?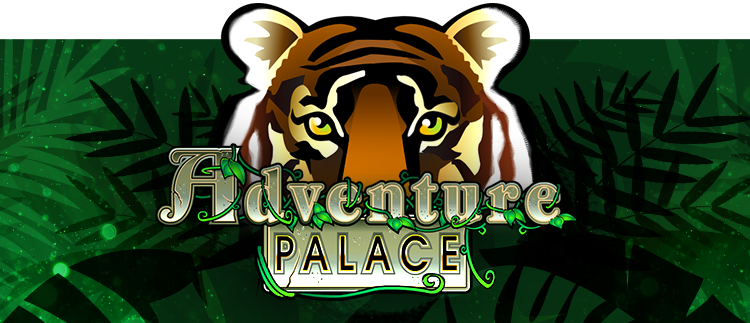 About Adventure Palace
The theme here is wild exotic animals (ranging from cobra to tiger), likely very different looking from the typical pets you'd keep at home or you'd see outside your front door. Surrounded by a lush green border and featuring colourful symbols, this slot aims to transport your imagination to a luxurious tropical forest filled with life; one in which you could potentially leave with a nice jackpot, or at least enjoy your time spent there.
How to Play Adventure Palace
This is a simple 9 pay line, 5 reel slot with clear options along the bottom for selecting lines, selecting coins, Max Bet and Spin. Your bet and win amounts are also clearly shown above Max Bet and Spin buttons respectively.
Similar to other Microgaming online slots, players can also select 'Expert' mode in which they're able to 'auto play' for a certain amount of spins. This may be more convenient for experienced players but it's recommended that you spend some time getting to know the slot first. Bear in mind a demo version is available for practice and to help you become comfortable with the slot's mechanics before staking cash.
Adventure Palace Rules and Stats
With a 96.1% RTP (Return to Player) percentage, this game sits around the average RTP% for slots of this kind. It's slightly less than the best offered elsewhere but still allows plenty of entertainment value without the threat of losing too much cash to the game.
You can stake between $0.01 to $1 per line, which considering there are 9 pay lines in total means your bet can range from as little as $0.09 up to $45 per spin. While the latter may still seem pretty high to many players, this is in contrast to some other Microgaming slots that offer minimum bets of $0.25 and a maximum of over $100.
Adventure Palace therefore may not initially seem the most appealing slot for the biggest high rollers out there, but that's before we consider the additional winning potential introduced by this game's special features.
Special Features in Adventure Palace
Like most good slots, this one has bonus features that can greatly increase the excitement of casual play. There are three main bonus opportunities to look out for, the first of which is the all-important Wild represented by an elephant symbol. This, as you may know if you've played similar slots before, substitutes for most other symbols and helps to string together some valuable winning combinations. In addition it will double your winnings, making it an even better bonus.
Otherwise, you'll be keeping an eye out for the palace/landscape symbol, which nets you a nice 15 extra completely free spins to enjoy. That's not all; any further wins from this bonus will be tripled, making the satisfaction sweeter still. As a final 'cherry on top' for the game overall, there is a 'Gamble' feature that lets you put all your winnings on the line for a chance to double or quadruple your cash for the day in an all-or-nothing game of cards.
These strong bonus features should help lessen the impact high rollers may feel in the smaller stakes offered by the game. Overall this is a nicely presented and fairly entertaining instalment from a veteran slot provider.