Vegas Strip Blackjack Gold
The new upgraded Vegas Strip Blackjack Gold is a welcome addition that anyone can enjoy thanks to its improved interface and graphics, bringing all of the fast-paced blackjack action to your screen from the comfort of home.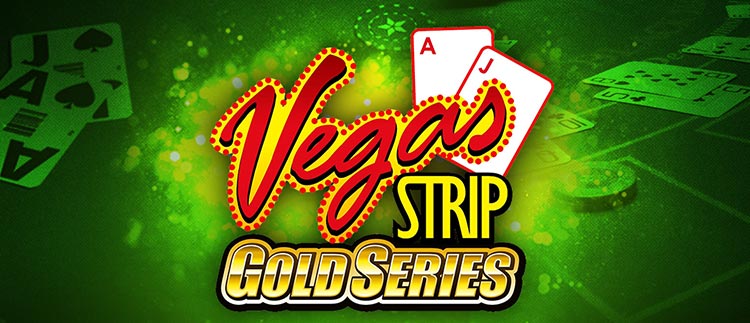 About Vegas Strip Blackjack Gold Game
Players that have gotten accustomed to Vegas Strip Blackjack won't find the transition difficult; in fact, many of the original's flashy colours and graphics have been toned down and refined to create a more realistic online blackjack game that feels more like what you'd expect on the Vegas strip (new or old). In addition, Microgaming have distilled their industry-leading UI to give players a comfortable array of options that are intuitive and easy to understand for beginners and veterans alike.
How to Play
Playing Vegas Strip Blackjack Gold isn't different from what you'd find at a real blackjack table in Las Vegas or elsewhere. Classic blackjack is an easy game to pick up and play, and this digital version is no different.
Players are dealt two cards each and the dealer is also dealt two cards. The goal is to assemble a hand containing a value as close to 21 as possible without going over (bust). Although at first glance it may appear to be easy, there are plenty of detailed strategies that can leverage statistics to better ensure consistent hands. Without going into too much detail, suffice to say that the original game is well-replicated in Vegas Strip Blackjack Gold, with all options available to the player clearly visible on-screen for easy access.
Game Rules & Stats
The rules in Vegas Strip Blackjack Gold are standard to most real-world and online blackjack games. This means that regular payouts are 1:1 whilst a blackjack pays out at 3:2. Auto bets and quick deals are also available to players that just want to keep the action going and are happy with their current bets.
In terms of gameplay, players should be advised that the cards are worth their numerical value, with all high cards (J, Q, K) being worth 10 and the Ace being worth either 1 or 11. A blackjack is a hand containing two cards being equal to exactly 21, or in other words, an Ace and a high card.
Splitting is available to players that receive two cards of identical value, thus allowing the hand to 'split' into two separate hands (an additional card is dealt to create a two-card hand for each hand). Aces can only be split once, but note that hands which have been split with Aces can no longer form a blackjack, even if their value is exactly 21.
Double down is another option that is available to players. By doubling down, players commit to drawing an additional card (only after their first two cards are dealt) and then standing. This is also possible for hands which have been split.
Special Features in Vegas Strip Blackjack Gold
There are no special features in Vegas Strip Blackjack Gold, but that's all right. Sometimes, less is more. This game is straight to the point and doesn't distract players with bonus rounds common in many other online casino games.
Play Vegas Strip Blackjack Gold Game
Whether you've been playing online blackjack for years or would like a great introduction to get familiar with the rules and gameplay, Vegas Strip Blackjack Gold is certainly worthy of its praise. Few games capture the feeling and authenticity of this classic casino game, so give it a go and try it today here at Gaming Club.