Enjoy Thrilling Live Roulette at Gaming Club
Place your bets on Lady Luck's wheel and get set for heart-racing entertainment at Gaming Club! Sign up at our casino for Live Roulette, Live Blackjack and the very best games!
Choose from a huge range of innovative versions of the King of Casino Games, and play at multiple tables simultaneously. Enjoy fantastic opportunities to win real money at your convenience.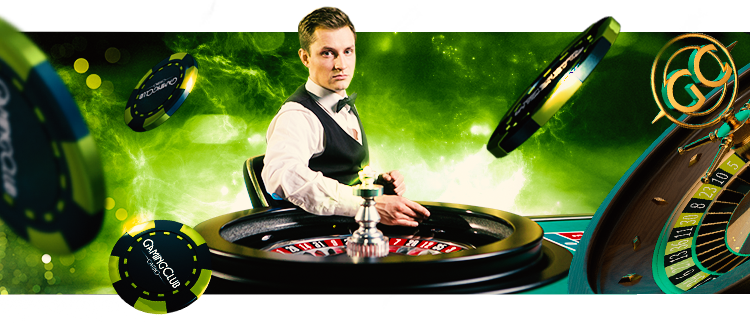 Learn the Basics of Live Roulette
Invented more than three centuries ago, Roulette is undoubtedly one of the most legendary games to ever grace the tables.
All you need to do when playing Live Roulette at Gaming Club is place a bet on the colour or number of the wheel pocket you think the ball will be found once the wheel has stopped spinning.
The many different types of bets are classes either as Outside bets or as Inside bets, with the former regarded as the simpler of the two.
Once you've placed your bet using the game interface, our dealer will spin the wheel, and then drop the ball into it. You will find out if your bet won when the wheel comes to a stop and the dealer announces the result.
Quality Live Roulette
You can get much more out of the Live Roulette experience at Gaming Club. This includes a massive range of traditional and innovative modern versions of the game, player-friendly game interfaces, and diverse special features.
Enjoy quick and easy access to secure real money banking services and player support, exclusive special offers, and settings that can enrich your gaming sessions.
You can activate a live chat feature to interact with dealers and other players, control sound and viewing options, save your favourite bets, keep tabs on your betting history, read the game rules, and find game statistics as well as Hot and Cold numbers.
Live Roulette Favourite Bets
One of the most popular Live Roulette features at Gaming Club is the Favourite Bets feature. Use the feature to make playing at your favourite tables faster and simpler.
The feature is a customisable menu in which you can save as many as 15 of your favourite bets. These could be single or multiple bets, neighbouring bets, or even special bets. Activate the feature to place your lucky bets with a click of your mouse.
Explore an Array of Live Roulette Games
Discover the thrills of European Live Roulette, one of the original versions of the classic game. You can choose from a range of standard and VIP tables run by friendly and professional casino dealers whenever you log on.
Add fair to your gaming by playing French Roulette at Gaming Club. It has much in common with the European version of the game, such as a wheel that features the numbers one to 36, as well as a single zero pocket.
The difference comes in with the La Partage rule that could work in your favour, as well as with some traditional French names for certain bets. Play award-winning Immersive Roulette for Live Roulette with a visual difference. This version uses multiple camera angles and slow motion replays to maximise the intensity of the game.
Choose Double Ball Roulette for a truly unique experience. Enjoy the thrill of special bets that could land huge wins, thanks to two balls that produce two winning results in one wheel. Play several games simultaneously with Mini Live Roulette. Enjoy the excitement of the European version in a scaled-down game screen so you can fit in even more action.
Sign up at Gaming Club and play premium Live Roulette games!