Play Live Blackjack at Gaming Club
Discover the immersive action of the best Live Blackjack games available! Play features-rich versions and variations of the world's favourite card game at Gaming Club, powered by Evolution Gaming!
Each table is run by a professional live dealer, features real playing cards, and uses premium software to make placing bets, interacting with the dealer and with other players, and managing your casino account easy and fun.
Use our encrypted banking service to deposit real money into your account, and play to beat the dealer's hand for the worldwide web's most sumptuous 21 jackpots.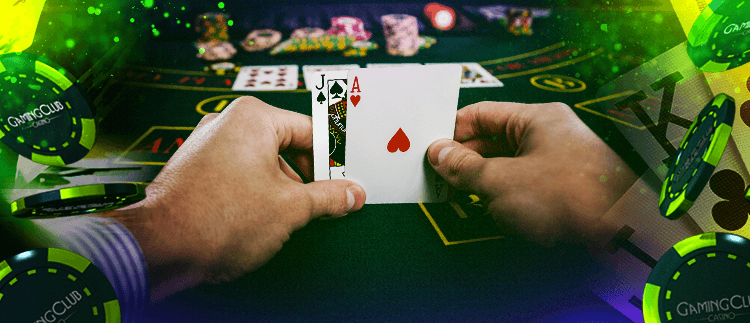 Introduction to Live Blackjack
Enjoy classic Live Blackjack as well as its most popular variations at Gaming Club. Experience how easy it is to play a game that has thrilled players for more than three centuries.
The basic gameplay that underpins our games is simple to learn. It all starts with your opening bet. Once you have your cards, you can Stand, and play your hand as you have it, you can Hit to improve your hand total, you can Split your hand into two, or you can make any of the other classic moves to try beat the Live Blackjack dealer.
Once you've finalised your move, your hand will be compared with the dealer's. The hand closest to 21 points is the hand that wins.
Explore Live Blackjack Features
Maximise your Live Blackjack gaming at Gaming Club. Evolution Gaming's top quality live casino games include a host of features to add all the more excitement.
Whether you choose classic 21, prefer variations with exciting twists and turns, or immerse yourself in the highly sociable Blackjack Party, you can use unique betting options and other features to heighten the suspense. With the Bet Behind option, you never need to worry about not being able to take your place in one of the main seats at our Live Blackjack tables.
Get your adrenalin flowing with a choice of Blackjack side bets when you play at Gaming Club. The 21+3 side bet brings an element of poker into the game, where you can win if your first two cards and the dealer's one visible card form a paying poker hand.
Place a Perfect Pair side bet to stand a chance to win when your first two cards are dealt. You win the bet if those cards form a coloured, mixed, or perfect pair.
Pick up the pace by placing Pre-Decision bets. You can Stand, Hit, Split, or Double Down when the first Live Blackjack player places their bet.
Live Blackjack and Blackjack Party
Launch Gaming Club's live casino powered by Evolution Gaming for a truly spectacular selection of 21 tables. You can find standard and VIP tables, as well as our famous Blackjack Party table. Each table has seven main seats, although our games are not limited to seven players only, thanks to the Bet Behind option. You need never worry about missing out on any of the action, as our cameras keep the table and cards in full view at all times.
For social, low-stakes Live Blackjack fun choose Gaming Club's Blackjack Party. The table where all the action happens is run by a TV-trained dealer and co-presenter, while lively chat, music, and more enhance the action.
Feel the Power of Evolution Gaming
Experience the unbeatable quality of Evolution Gaming's Live Blackjack casino software at Gaming Club. Find the best 21 games, place bets, view your betting history, chat to other players, view the action in full screen or regular mode, learn the game rules, and find paytable information with a click of your mouse.
Play Live Blackjack with real dealers at Gaming Club! Give live Baccarat a try as well, we know you will love it!