Jacks or Better Online Video Poker
Jacks or Better is a classic take on video poker and has proven to be incredibly popular with players who love the thrills, spills and in-game features that the game offers.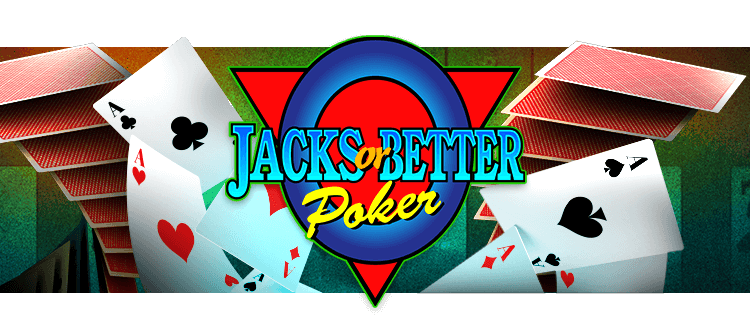 About Jacks or Better Video Poker
Video poker has long been one of the most popular casino games in casinos and pubs around the world, but few claim the widespread popularity and appeal of Jacks or Better. This classic video poker variant is similar to five-card poker and boasts similar playstyle to make it appealing to a wide audience, even those who are poker novices or don't yet have a solid grasp on the intricate strategy of poker.
Although online casino games have come a long way since video poker machines were first installed, Jacks or Better has always been a popular choice since it's easy to get into yet boasts quite a bit of complexity in order to yield the more elusive and rare hands that can award players handsomely for their luck and effort.
How to Play
Jacks or Better plays like most other video poker machines. Players must place bets and denomination amount, deal five cards, then assess which cards, if any they'd like to keep. They are then permitted to re-deal any cards not held in order to form a hand.
Hand values are shown on-screen and are similar to real poker, with the notable exception being that some of the low-value hands such as high card or pairs of 10 or less do not count unless they form a superior hand.
By clicking on the desired cards to keep during the first deal, players are presented with multiple strategies in order to maximise the odds of drawing a better hand. There are only 52 cards in the deck, so players may formulate their own strategies to determine how likely they are to draw a better hand during the following re-deal.
Jacks or Better Online Poker Rules & Stats
The rules in Jacks or Better are fairly standard, but the interface and layout may differ depending on the machine manufacturer or the online client developer's preferences. Nevertheless, most standard Jacks or Better games use the following ranking for hand value and provide payouts accordingly:
Royal Flush: a hand containing a 10, J, Q, K, and A of the same suit.
Straight Flush: five cards, in sequential order, of the same suit (e.g. 4, 5, 6, 7, 8 of clubs).
Four of a Kind: four identical value cards of different suits (e.g. four 9s).
Full House: three of a kind and a pair (e.g. three Js, two 10s).
Flush: any five cards of the same suit (e.g. a 2, 5, 6, K, A of spades).
Straight: five cards, in sequential order, of any suit (e.g. a 7, 8, 9 of diamonds, a 10 of hearts, and a J of clubs).
Three of a Kind: three identical value cards of different suits (e.g. three 5s).
Two Pair: two pairs of identical value cards of different suits (e.g. two Qs, two As).
Jacks or Better: a pair of two identical value cards that are J or better of different suits.
Play Jacks or Better
Jacks or Better is a straightforward yet highly entertaining video poker game. It's all about getting straight into the action and strategising which cards to keep and which to redraw. There's a reason that Jacks or Better is such a timeless classic, so sit down and deal yourself a few hands to see what all the excitement is about.
We also feature a wide variety of fantastic video slots, including Wild Scarabs.