Atlantic City Blackjack Gold
Take a walk down the Boardwalk and experience the excitement of Microgaming's new, improved Atlantic City Blackjack Gold. This upgraded Gold Blackjack game features new graphics, animations, and an improved user interface which makes it a real pleasure to play. So get ready for an ultra realistic and immersive high-paced Blackjack experience!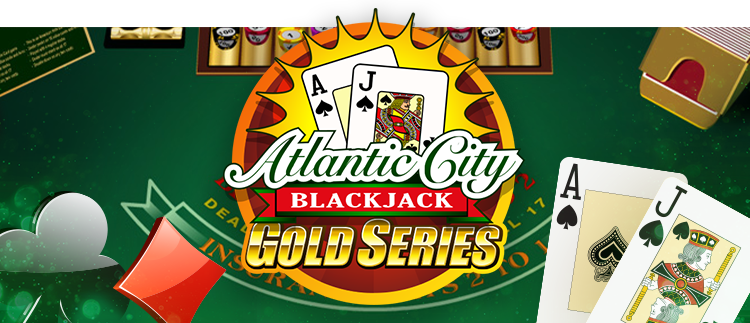 About Atlantic City Blackjack Gold
In terms of aesthetics, Atlantic City Blackjack Gold has a clean, green felt table with digitised chips, cards, and smooth animations. Nothing seems out of place, although it should be noted that some live online Blackjack games offer the full immersion of a live casino experience with live dealers and real tables.
Live Blackjack Gold is managed by a sophisticated random number generator which delivers the same odds and thrills whilst offering the pace and convenience players love.
The game's soundtrack consists of a jazzy piano and people chatting in the background. It feels like a casino ambience and doesn't get old or repetitive too quickly and helps to add to the authentic and immersive atmosphere of the game.
How to Play Atlantic City Blackjack Gold
There isn't much to say in regards to playing Atlantic City Blackjack Gold. Simply load up the client and get right into the action. In the lower centre of the screen, players may place bets ranging from 1.00 to 200.00 at a maximum. Chip values are denoted on the bottom left of the screen. Once bets have been placed, simply click deal to be dealt your first two cards. Once you and the dealer have your cards, you may hit, stand, or surrender.
Blackjack doesn't get much more complex than what you may already be familiar with, and this game does a good job of keeping it simple and to the point. It's worth noting that there are some special rules in place that make this variant slightly different from what you may be accustomed to, however.
Atlantic City Blackjack Gold Rules & Stats
The special rules in Atlantic City Blackjack Gold are as follows:
A total of 8 decks are used;
The dealer may peek at a hand containing a 10-value card or an A;
Double Down is available on any hand, including after splits;
Up to three total splits are possible, resulting in a total of four separate hands;
Aces can only be split once;
Split As and high cards (10, J, Q, K) count as 21 and not Blackjack;
Cards with a value of 10 can be split, regardless of whether they're alike or not;
Late surrenders are permitted.
For clarification, late surrenders mean that players may surrender after the first two cards have been dealt. Blackjacks pay out at 3:2 and the dealer must stand on any 17-value hand. Furthermore, insurance bets are possible in Atlantic City Blackjack Gold and pay out at 2:1. All other bets pay out at 1:1.
Play Atlantic City Blackjack Gold
Blackjack is one of the world's most popular casino games, and Atlantic City Blackjack Gold is an online title that delivers where it matters and then some. It's an excellent upgrade to the original and much loved Atlantic City Blackjack, and a fun variant that will be instantly familiar to all Blackjack enthusiasts, but different enough to attract novice and veteran players alike. Ante up and see what all the excitement is about today.