Play Online Baccarat at Gaming Club Casino
If you love baccarat, you'll want to visit Gaming Club Casino, where you'll be able to replicate an authentic casino baccarat experience. With its realistic graphics, exciting game play and choice of stakes, our online baccarat game is popular with enthusiastic gamers around the world.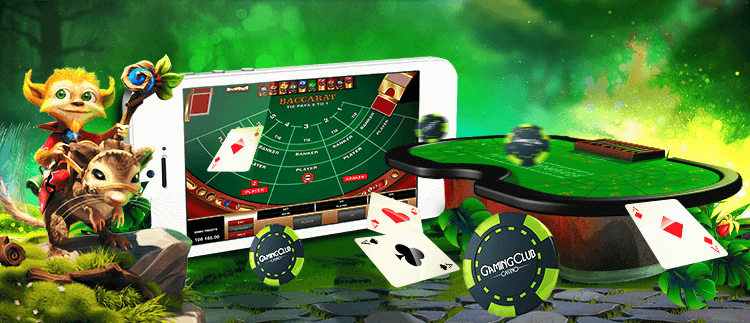 Baccarat at it's Best
Baccarat was first introduced in France by the court of King Charles VII during the late 1400s and has been a game of choice by connoisseurs for more than six centuries. Until a few years ago, the only way to play authentic casino baccarat was in a live, onsite casino. Now, thanks to Gaming Club, you can experience all the excitement of high-level, live action play all from the comfort of your own home.
At Gaming Club, all of our games are powered by Microgaming, a world leader in quality, professional-level gaming software. Whichever game you prefer, be it online baccarat, slots, poker, blackjack or roulette, you'll be able to play in your own preferred language and currency. Best of all, you can rest assured that you're playing in a secure, safe online environment, where your privacy will never be breached. Gaming Club is fully licensed, has the eCOGRA seal of approval and our site is regularly audited and monitored to comply strictly with all international online gaming codes and standards.
With more than 400 casino games available, you're sure to find all your favorite games at Gaming Club. You can choose your own stakes, develop your own style of playing and discover new favorites while enjoying the ultimate thrill of non-stop gaming action.
If you're looking for the ultimate online casino experience, visit Gaming Club Online Casino, where you'll be able to enjoy the excitement of online roulette, slots, poker, blackjack and baccarat all offering fantastic stakes and prizes.