Fun with Mobile Blackjack at Gaming Club
Your aim when playing any Blackjack casino online game is to beat the dealer by getting a hand total of 21, or the closest you can to it, without exceeding that number, or going Bust. The basics of a Blackjack game don't change, whether you are playing it at a land-based casino, at our online casino, or on your mobile, and this rule will stay in place for all variations, too.
You can win your Blackjack game either by getting a higher score than the dealer, ideally 21, or by sitting on a hand with a lower score and hoping that the dealer goes Bust. Playing Blackjack online requires a little luck, some strategy, and a lot of practice, and you can get it all done thanks to the mobile version right here at Gaming Club Casino Ireland.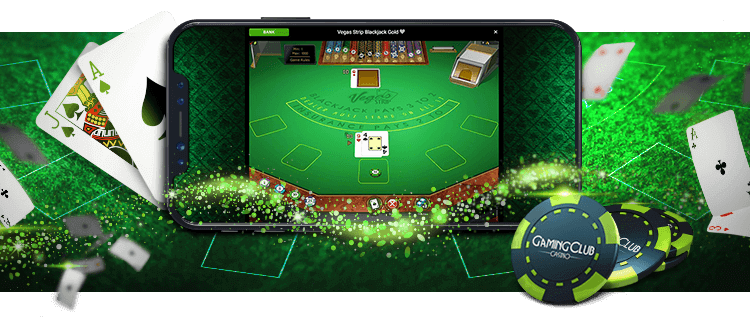 Instant Access, Wherever You Are
Online Blackjack games have enjoyed a massive growth spurt recently. In today's more hectically paced world, modern players are stretched for time, and are increasingly turning to online casinos to enjoy a game or 2. Mobile casinos have taken the convenience of online gameplay even further, making mobile Blackjack more accessible, playable whenever and wherever, so it's no surprise that they are as popular as they are.
Of the casino games to transition to the mobile platform, Blackjack was one of the first. This was a result of its continuing incredible popularity with players in Ireland and around the rest of the world, and the fact that the graphics powering it are relatively simple.
Straightforward Play for Mobile
Enjoying mobile Blackjack games is a very simple process. After you download the application, you will place your bet and click the Deal button, which will have 2 cards handed to you at random. After this, you can choose to Stand, not drawing another card, or Hit, and receive one more card.
The winnings that mobile Blackjack games are capable of add up to some pretty impressive payouts, so this is a mobile casino game you should enjoy as frequently as you can. Make sure you keep your eye out for the bonuses and promotions we provide here at Gaming Club online casino Ireland, too, as these can help you get a little further along in the game.
Practice Makes Perfect - Go Mobile
Mobile Blackjack games are also a great place to practice your Blackjack strategy. You can enjoy the real money play as and when you like, and you will find that the jackpots attached to the game are more than equal to those available at land-based casinos, if not higher, so the potential for big wins is good!
An Array of First-Rate Games
It's not just mobile Blackjack we have here either. You can spin the Roulette wheel, rack up winning combinations with online slots, and enjoy a great range of the best online casino entertainment our software provider, Microgaming, has to offer at Gaming Club Casino!
The Benefits of Mobile Blackjack
One of the biggest reasons you should be playing mobile Blackjack at the best online casino Ireland has to offer, is the fact that you can take it everywhere with you. You do not need a PC and the accompanying time and space that this device requires, and can play absolutely anytime, from anywhere at all. This will help you increase your number of turns, and we all know that this is an essential part of seeing a profit from your gameplay. Basically, you can convert all of your spare time into a winning opportunity thanks to mobile Blackjack!