Online Video Poker at Gaming Club Casino
Poker is one of the greatest card games in the world, sharing the same sort of longevity that Blackjack enjoys, and has proved popular with players who spend time at the various casino online sites that provide it.
Video Poker is starting to catch up nowadays - it's been around since the 1970s, and its popularity seems to be growing more than ever before! Any self-respecting online casino will make Video Poker games available for its players right along the classic table games like Roulette and Blackjack online, and Gaming Club is no exception. We invite you to test your skill with this top casino game while you try to woo Lady Luck as well, and enjoy great odds thanks to the fact that you have chosen the finest online casino Ireland has to.
Start having some fun at Gaming Club Casino and explore the range of Video Poker, Roulette,
Blackjack, online slots, and other top casino games we are so proud to provide.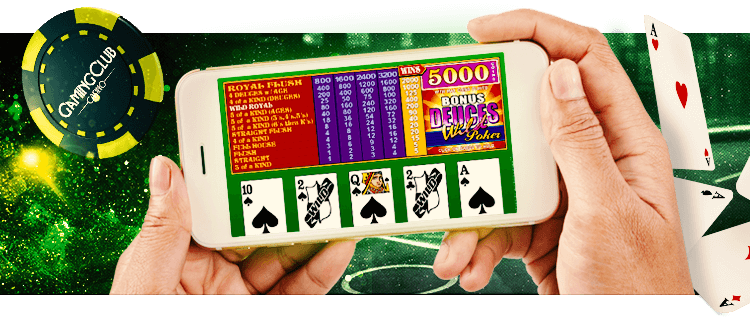 The Payouts for Video Poker Games
One of the reasons Video Poker games are such a hit with players from Ireland and around the rest of the world is that it provides a pretty good chance of boosting your bankroll! Video Poker games are way ahead of the competition in this respect, paying out at roughly 99%, which is significant when one considers that the best slots games only pay out between 95% and 97%.
What does this mean for you? Well, only 1%, on average, of the bets that you will be placing on the Video Poker machines enhances the house's edge! The rest heads straight to the payout.
Sign Up and Start Winning
Video Poker games are great on a number of different levels. They are a good way to relax, since they don't require the same intensive strategy that other games do, and they are not based purely on luck, either. The pace is quick, so you don't have to devote hours to finishing a game, and they are easily enjoyed on the go, as well. The jackpots are more than worth trying for, especially at Gaming Club online casino, and you can put your Welcome Bonus to good use getting started! If you played Online Video Poker and enjoyed it, try your luck at online Baccarat.
The Most Popular Video Poker Variants
The amount of Video Poker variants available at Gaming Club Casino makes for a far richer experience for players who enjoy this casino game. It is definitely not your average Texas Hold'em game that you will find when you enjoy Gaming Club Casino's Video Poker catalogue: there are many variants available that will not only expand your gambling horizons, but also make sure you stay engaged and entertained, too.
Take Deuces Wild Video Poker as an example, where an additional number of cards, in this case the 2s and 8s of each suit, are considered Wild - this adds a whole new dimension to your gameplay! Jacks or Better is another Video Poker variant that may actually be familiar to Poker fans already, and there are various multi-hand casino games on hand as well. These are great for online Video Poker players who are looking for more of a challenge, since players need to manage more than 1 hand a time.
Of course, adapting to all the different types of casino online games is no simple feat, but players are able to enjoy the added twists because the essential gameplay remains unchanged. Set your strategy to the test with a Video Poker variant, and see if your skills measure up when you play at Gaming Club Casino!