Online Baccarat at Gaming Club Casino
The Baccarat card game is rooted in history, like Roulette and Blackjack, and was once only available for aristocrats to enjoy. The Gaming Club Casino online version of the game has changed that, thankfully, and these days players from all walks of life in Ireland and the rest of the world enjoy it every day!
Baccarat was first played in France in King Charles VII's court, during the 1400s, and it has remained popular with the rich and famous since then. The rest of us can now play it as and when we want as well! This is thanks to the fact that it is as popular an online casino as it is - rivalling even Blackjack - and Gaming Club is here to make sure that you can indulge in a game or 2 whenever the mood strikes you!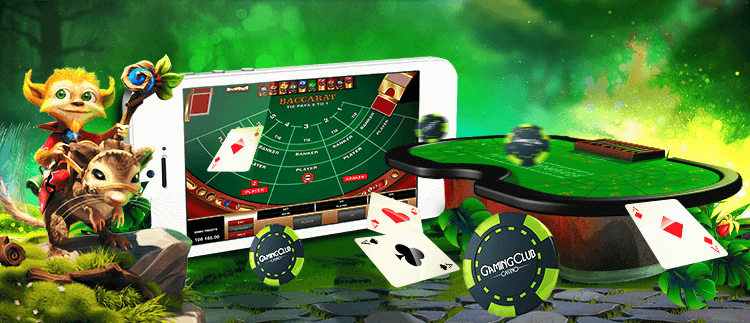 Card Values in Baccarat
The Ace is worth 1 point, and the cards from 2 through to 9 are taken at their face-value. The 10, Jack, Queen, and King are 0 points, and, when totalling the value of the hand, the left-hand digit, if there are 2, will fall away. Thus a hand made up of a 4 and an 8, equalling 12, will become 2.
First Rate Table Games from Microgaming
All of the titles here at Gaming Club Casino, from the table games like Blackjack online to the Baccarat, and not forgetting the luck based online roulette, of course, are powered by Microgaming. This casino software provider is a world-leader in terms of the quality of the entertainment it provides, and you can look forward to experiencing the finest possible online casino gameplay.
Online Baccarat Bettings
If you are already a fan of Baccarat, then your Gaming Club experience can simply get started, and if you are new to the entertainment that this online casino game provides, you can get ready to start having some fun! It is an easy game to learn and to play, and thanks to how heavily it relies on luck, and the high standard of software for the game here at our online casino, you will soon find yourself in the thick of things, betting with the best of them.
As the top online casino Ireland has to offer, Gaming Club makes sure that you are able, as far as is possible, to replicate a genuine casino experience when you place your bettings on Baccarat here, without all the hassle! You don't have to drive anywhere, or spend money on accommodation, food, or drinks,the realistic graphics will make you feel like you are in a land-based luxury casino anyway! You can get into the exciting casino games from wherever you are, and, thanks to the wide choice of stakes we offer, all player preferences are catered to.
You have 3 choices when it comes to Baccarat bets, and need to predict the outcome of the Player and Banker hands that make up the game. These names are simply that - labels for the 2 hands, and neither you nor the house has any influence on the cards or what is done with them. You will be wagering on which hand will win, or whether the 2 hands will tie, and the 1 that gets closest to a total of 9 will take the game.