Spin the Mobile Roulette Wheel
Take the Gaming Club Casino mobile Roulette wheel for a spin and see how much you can win!
Roulette, like Blackjack, has remained a player favourite for hundreds of years, and this trend looks likely to continue for a while yet, particularly now that you can enjoy mobile versions! Its popularity at casino online sites rivals that of land-based gameplay, and the simplicity, elegance, and excitement it provides ensures you have fun as you boost your bankroll.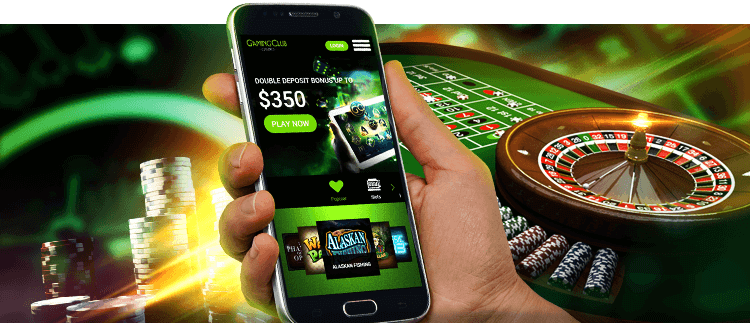 Mobile Roulette Bets at Gaming Club
There are more bets for mobile Roulette than there are for games like Blackjack, and this means that punters are kept satisfied whenever they pay us a visit. When you play this online casino game on your smartphone or handheld, you can wager on:
Single numbers
Multiple numbers, which range from 0 - 36 in the European variation, and the added 00 pocket for the American game pushes this total up to 37
Red or black
Odd numbers or even numbers
And that's just to name a few.
Table Games at Gaming Club Casino
In recent years, mobile casinos have improved by leaps and bounds, and many of the biggest names in online gambling, like Gaming Club, have been quick to embrace the phenomenon. It comes as no surprise, in the transition to the virtual world, that table games and online slots continues to be a first choice for players at our online casino Ireland site.
Mobile Roulette casino games has given players a whole new way to enjoy this great game, and you can take it with you wherever you go, and play whenever you like! Nothing is as flexible as a good mobile casino game, since it is able to fit in with the timetable that suits you, and not only do you not have to wait for a table to open, you don't even have to wait until you get to your PC. All you need is a Gaming Club Casino account, a smartphone or tablet, and a steady internet connection.
Tips to Enhance Your Wins
While this advice may be more effective for beginner players, even seasoned mobile Roulette players may have missed a thing or 2! In our dedication to seeing our players profit every time they pay us a visit, Gaming Club Casino has put together this list of tips: Read Up on the Rules
It is vital that you understand the various bets available in mobile Roulette before you start playing. Make sure you read up on the rules before your games begin, and find out how best to use your chips when the betting starts! There are many wagers on hand for you to enjoy, but don't let this intimidate you. Once you have found your feet, you will be glad of the range and variety of bets that mobile version of Roulette provides.
Beginners Should Opt for European Roulette
If you decide to enjoy mobile Roulette here at Gaming Club and it's the first part of your journey with the game, stick to European Roulette. The American version, with the 00 pocket, ups the house edge, which makes it a top choice for players who wish to take on a challenge, but may make it too difficult for newcomers.
Should you be a newbie to the casino game this classic mobile casino game, test the water to your heart's content with the demo versions that Gaming Club Casino provides! Doing this will help you to get a feel for how the game unfolds, the pace you prefer to play at, and how you will enjoy it once the real money betting begins. On top of all this, practice makes perfect, and by playing more, especially thanks to the mobile availability, you will more quickly be able to master it.