Temple of Tut Slot Game
There's something magical about the wonders of Ancient Egypt that just blends so well with online slot gaming, and Temple of Tut embodies this combination perfectly. Raiding tombs and discovering the secrets and artefacts of Egypt has always made great source material for film and literature, but it's also long been a classic theme in slot gaming enjoyed by many over the decades. With so much competition in this particular niche, how well does Temple of Tut stand up? Twisted Circus is another great title to explore, within our slot game portfolio.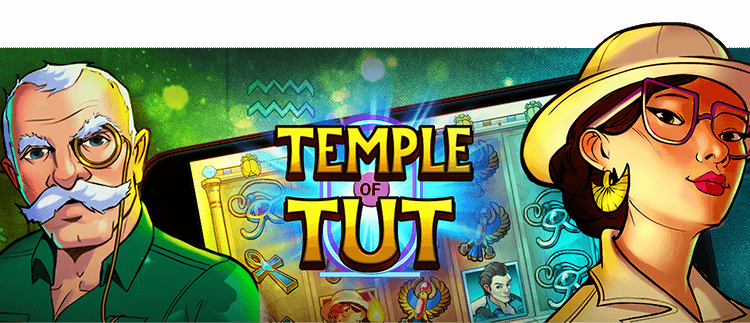 About Temple of Tut
Temple of Tut keeps things simple and colourful. The aesthetics are clean and crisp and certainly up to par with modern online slot games. The music is also fitting, with an Egyptian-inspired theme that doesn't get old too fast. A special draw is the attention to detail with the game's colourful and flashy animations whenever a big win is achieved.
How to Play Temple of Tut
For anyone who has played online slots before, Temple of Tut is straightforward and easy to pick up and play. For those new to slot gaming, it's equally easy to get into thanks to the game's intuitive user interface. Simply, players must place a bet, spin the reels, and try to assemble a sequence of matching symbols. There are five reels containing three rows each and there are 10 paylines, so you don't have to line up all of your symbols across the middle row, for example, in order to win. Temple of Tut has some paylines that pay right to left, which makes it a little different and unique from many other slot games.
The symbols used in Temple of Tut include: the Ankh, Phoenix Pendant, Canopic Jar, the Eye of Horus, and three daring Explorers. There are also two special symbols, Sphinx Head (the game's wild symbol) and the Temple of Tut logo (the scatter symbol).
Temple of Tut Rules & Stats
The rules of Temple of Tut are similar to most other online slot games with little in the way of surprises. The 10 paylines not only work left to right, but also right to left which adds additional ways to win.
Bets start at as little as £0.10 all the way up to £250 per spin. This makes Temple of Tut an easy game to play with bankrolls of any size, and the game's 96.01% RTP is also quite generous. This means that you can expect to win more often, and in fact, Temple of Tut pays out better than most online slot games on average.
Special Features
The special features in Temple of Tut are similar to what you would expect in most other slot games. There is a wild symbol and a scatter symbol, represented by the Sphinx Head and the Temple of Tut logo, respectively. The former replaces any missing symbol across a payline to create a winning sequence. The only exceptions to this are that it won't replace a bonus or scatter symbol. The scatter activates whenever players land three or more on the reels and it awards players with 8, 15, or 30 free spins (for 3, 4, or 5 scatters, respectively).
There is also a special feature called Super Reels, which activates at random during gameplay. This becomes evident when the reels change colours and the result is that wilds appear far more frequently, which helps boost winning potential greatly.
Play Temple of Tut
Exploring King Tut's tomb is perhaps more realistic in cinematic depictions, but Temple of Tut does a good job of engaging players with a classic theme, great winning potential, and a straightforward, no-frills game. Give it a spin for yourself and see what all the excitement's about, or check out our huge range of slot games to see what else grabs your attention.