Reel Talent Online Slot
Everyone's got talent when it comes to Just For The Win's exciting talent show themed Reel Talent slot game. Whether you're an avid musician that loves to entertain or a little too shy to perform in public doesn't matter since anyone can have just as much fun winning this slot game's big potential payouts. Another great title available within our slot game portfolio, would be Ramesses Riches.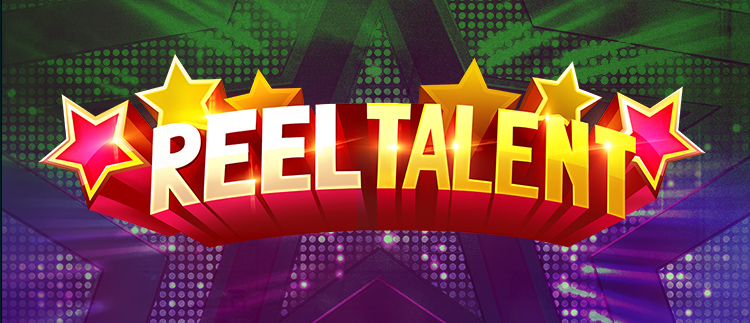 About Reel Talent Slot Game
Finding inspiration from the myriad talent show television series popularised in recent decades, Reel Talent adds a fresh and vibrant touch with its interactive UI, action-packed animations, vibrant colours, and a pumping soundtrack. The game's aesthetics are really front and centre, but they're well-matched by great gameplay with plenty of options and bonus rounds to keep you spinning round after round.
How to Play Reel Talent
Reel Talent is a straightforward online slot game featuring five reels containing three rows each. There are 20 fixed paylines across which players must line up a sequence of matching symbols in order to win the corresponding payout.
Simply place a bet, spin, and win whenever you've lined up the game's thematic symbols across an eligible payline. New and seasoned slot game players alike will feel right at home with Reel Talent's familiar gameplay.
Options are available in-game and allow players to adjust the game's settings for audio, betting, and for ease of player use such as the auto-spin feature which lets you sit back and enjoy the game for up to 100 spins without having to constantly spin manually.
Reel Talent Slot Game Rules & Stats
The game's symbols include playing cards in the shape of a star, a microphone, a torch, a guitar, as well as four talented performers: the lion, crocodile, wolf, and rabbit. The highest value symbol is the Reel Talent logo. Line up a winning sequence of Reel Talent symbols in the game's bonus round to win up to 1000x your initial stake.
The game also features a wild symbol, simply labelled as WILD. This symbol will substitute itself for any missing symbol in an otherwise complete sequence across a payline, which means that you'll be thankful to roll a wild when you're only one symbol off from that big win.
Special Features
Symbol Storage is the most obvious special feature in Reel Talent, since it's immediately visible on the left side of the screen. This feature is simple but can lead to seriously big rewards. Whenever a winning sequence is obtained across a payline, the winning symbol is added into the storage container. Multiple winning paylines can add their symbols simultaneously. Filling up the container takes players into the main attraction, the Superspin.
Superspins use the symbols that were accumulated in the container and can take three different forms, depending on what was inside the container. Three different symbols takes you to Show Time, whilst two different symbols (i.e. two microphones and one rabbit) takes you to the Big Stage. If all three symbols are the same, you'll enter the highest payout bonus round, the Solo Performance. All three of these special Superspin rounds are accompanied by a great soundtrack as well.
Play Reel Talent
It's all about fun and excitement when it comes to Reel Talent. Reel Talent is amongst the range of online slot games that are certainly worth a few spins at the very least. In terms of gameplay and theme, this game is fresh and original that can keep players entertained spin after spin.