Rabbit In The Hat Online Slot Game
Hocus Pocus, Alakazam! Microgaming is at it again with their magical, enchanting slot game Rabbit In The Hat. If you believe in magic, perhaps you can cast a spell on the reels to rake in big winnings. Rabbit In The Hat is a fun slot game that is worthy of your time for all the right reasons.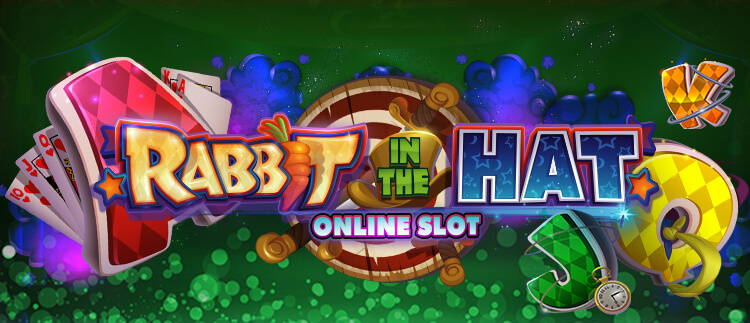 About Rabbit In The Hat Slot Game
In terms of aesthetics, the Microgaming touch is there with a great, interactive user interface, colourful graphics, and vibrant animations with a more cartoony edge. Moreover, the game's whimsical sound effects and musical score during animations add to the overall feel of being at a magic show, complete with a stereotypical caped, moustachioed magician.
How to Play
You don't have to believe in magic to pick up and play Rabbit In The Hat. Most new players and seasoned punters will feel right at home thanks to the game's interactive user interface. Simply place a bet, spin the reels, and hope to pull that rabbit out of the hat (or to win big, whichever is more desirable). Players must match symbols on one or more of the game's 5 reels and 3 rows across one of the game's 9 paylines in order to win the corresponding payout.
The game's symbols include: poker high cards (9, 10, J, Q, K, A), a Bullseye with Knives, a Water Escape Chamber, a Magical Treasure Chest, the Magic Hat (the game's wild symbol), and the Rabbit himself.
Rabbit In The Hat Slot Game Rules & Stats
There are no special rules in Rabbit In The Hat to note, except that there are no scatter symbols (there is a different way to earn free spins, however).
One of the biggest advantages of Rabbit In The Hat is its good winning potential, represented by a 97% RTP. That's quite a bit higher than the industry standard for online slot games of 95%, so in essence, you stand a much better chance of raking in the winnings than in most other slot games.
Bets start at only 0.01 credits and go all the way up to 18.00, depending on how many coins are used for each bet. This makes Rabbit In The Hat easy to pick up and punt with only a few quid yet interesting enough to keep high rollers coming back for more.
Special Features
The creators of Rabbit In The Hat had a few tricks up their sleeve when coming up with special features. As mentioned, there are no scatter symbols in the game, but there are still free spins available. Firstly, it's important to note the dancing hat above the reels, however. These 'Magic Hats' start on the fifth reel and 'dance' over from right to left after each spin. What's in the hat? Bonuses await players that land a wild symbol on the same reel as the Magic Hat, which can be one of the following:
Free Spins: win up to 50 free spins!
Cash: get paid instantly (random amount).
Wild Reel: an entire reel becomes filled with wild symbols.
?: receive a mystery from one of the above bonuses.
Play Rabbit In The Hat
Spells and magic tricks can be flashy, but the winning potential in Rabbit In The Hat is real and there's no sleight of hand. Thanks to its above-average RTP, fun theme, and easy to play interface, Rabbit In The Hat is worth a spin or three.