Lucky Links Online Slot Game
Sometimes just one enthralling feature is all that is needed to give a slot allure and intrigue. Such is the case with Just for the Win's Vegas-style game Lucky Links. There are plenty of classic Vegas-style slots on the market, but all it takes is one special feature to make them shine and stand out from the bunch. Lucky Links might look simple on the surface, but lurking beneath is a clever feature that makes spinning its reels a real treat when it all lights up.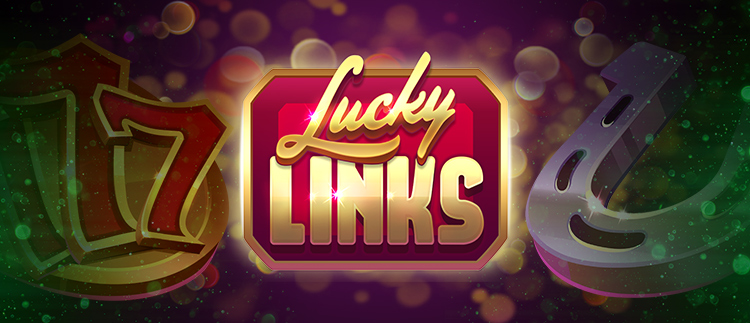 About Lucky Links
Lucky Links is a slot that successfully makes use of a popular theme and modernises it via crisp graphics and top gameplay. The action takes place over 5 reels, and 4 rows, which are set against a classy purple background accompanied by a jazzy backing track. The dazzling light show synchronises with the music, and the overall effect is subtle, yet well up to the task of entertaining players. Give it a chance, and Lucky Links can go crazy when it gets a good roll on.
Just for the Win has designed the user interface so it matches the colour palette perfectly and stays clear of the reels to maximise their impact. On the menu bar, players can spin manually, or activate auto spins just as easily. Taking part in the action requires setting bets first, and stakes vary from 0.10 credits up to a high roller friendly 250 credits per spin.
How To Play Lucky Links Slot Game
The base game is straightforward and involves landing winning combinations of three or more matching symbols on the game's twenty paylines. If you are a person who collects lucky charms, then you are in for a real treat with the paytable. The high pay symbols contain several icons of luck such as four-leaf clovers, acorns, horseshoes, and a triple 7s symbol.
The premium is the game's logo so look out for that one since it is worth 7.5x the stake for a line of 5. Making up the low pays are a colourful collection of card suits – spades, diamonds, hearts, and clubs. Thanks to the way the features work, it is possible to hit full screens of common symbols for max wins!
Lucky Links Slot Rules & Stats
Complementing the laid back vibe is a game engine that is set on a low variance level. This setting theoretically provides smaller, more frequent wins, while still being able to dish up big hits from time to time. The low variance means that the feature can also trigger rather often too, which helps keep the good times rolling. Lucky Links' RTP helps in this regard too, and at 96.2% it is nicely above average.
Special Features
As the name suggests, links are the key to the game's most exhilarating moments. How it works is that on every spins, one random symbol type has Lucky Link frames attached to them. If the Lucky Link frames line up horizontally on adjacent reels, they are locked, and a respin occurs.
If one or more linking symbols land then another respin is triggered. This process continues until no new linked symbols appear or the grid is stacked with them. During this process, the music gets ever more frenetic, adding to the excitement of watching winners line up!
Lucky Links Summary
Lucky Links is a simple slot, with a handy feature that can quickly rack up combinations of symbols and their associated rewards. Due to the gentle variance, this can often happen to keep the excitement coming and engagement levels high. Lucky Links is ideal for any player looking for some Vegas-style slot gaming with an unusual feature that drips with symbols of luck.