Immortal Romance
If you're looking for a slot with a dramatic theme, memorable audio, compelling characters and rewarding game-play, then look no further than Immortal Romance! Immortal Romance is a vampire themed gothic slot with more than a touch of Twilight to its theme. There are four main characters who feature on the reels – Amber (said to be descended from witches in the Caribbean), Sarah (Amber's childhood friend with a question over her mortality), Troy (who is a combination of Twilight's Edward Cullen and Buffy the Vampire Slayer's Angelius) and Michael (who shares more than a passing resemblance to Twilight's Jacob Black). Each character has their own musical cues, theme and background, so if you like your slot to be exciting and dramatic, then look no further.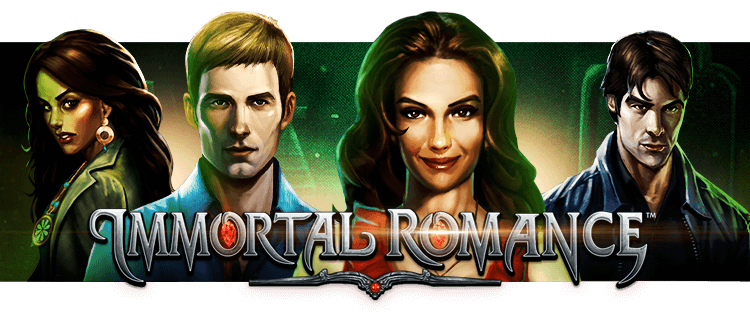 How To Play Immortal Romance
The minimum bet you can place is $0.30 and the maximum is $30, with coin values that correspond to these limits – you can adjust your bet by clicking the minus and plus signs in the left hand pane at the bottom of the slot. In expert mode, you can also adjust the coins used (which also alters your bet) as well as set up auto-play Once you've set your bet – just hit the spin button in the left hand corner of the slot. If you want to engage in a faster spin, just hit the spin button twice. You'll know when you've won, because not only are there great audio cues and animations to let you know; a booming gong being a favourite due to its appearance when you grab a big win, but the win pane just above the Spin button will tell you exactly how much you've just won.
Immortal Romance Rules & Stats
Immortal Romance is a five reel, three row slot which offers players a batty 243 potential pay-lines – so long as at least 3 matching symbols hit line up on consecutive reels then the slot will pay out.
Immortal Romance stands out amongst its slot game peers due to its generous RTP of 96.86% - which is significantly higher than the industry average of 96%, explaining the game's reputation as a generous and exciting slot to play. The slot is also known as being high variance which means you can grab big wins from relatively low spin sizes which just adds to the overall excitement of the slot.
Special Features In Immortal Romance
Immortal Romance stands out when it comes to special features including the Immortal Romance symbol which substitutes as a wild, which will double all wins in that spin – a fang-tastic bonus for sure!
Then there's the exciting Chamber of Spins bonus round which rewards longer play by unlocking exciting new options within the chamber based on each character – each with their own dramatic soundtrack and guaranteed number of free spin features including a 5X multiplier, vampire bats, rolling reels and the wild vine feature, all of which offer an exciting bite to your bonus round. If you hit 3 or more scatter symbols (a golden lion's head) in a round– that's when the Chamber unlocks, so watch out for those symbols.
But that's not all – if while spinning you hear a thudding heartbeat, watch out for a Wild Desire Bonus round which is signalled by blood dripping dramatically down the reels. Wherever the blood touches, it turns the entire reel wild with the potential for a mega pay out!