Golden Era
Microgaming has dipped into the archives for this easy, fun to play slot game. It's set in the Golden Era of Hollywood when classic films such as Gone with the Wind and Casablanca were the latest releases. On the red carpet now are even more exciting stars including generous multipliers, wandering reels and loads of free spins which might help you win Hollywood style cash prizes!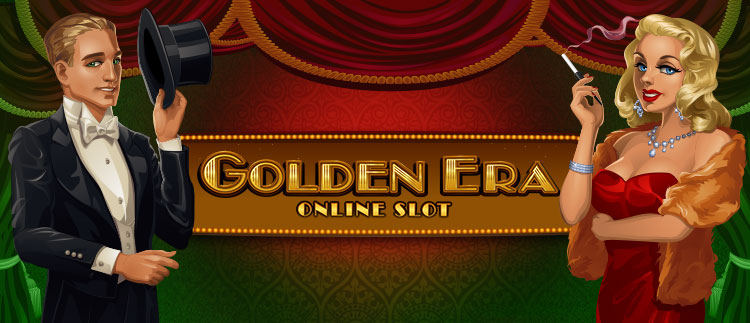 About Golden Era Slot Game
Step into the Golden Era slot and you'll notice the bold graphics creating an atmosphere of a glamorous opening night. There is the familiar cityscape with beaming searchlights, vintage limousines and a Hollywood paving slab with a star's handprints embedded in it. Old reels of film, cinema tickets and a selection of actors and actresses are on standby for their turn on the silver screen. If you're a movie buff you'll find plenty of details to get excited about in this game. But even if you're not a movie fan, there's still plenty to enjoy here.
How to Play Golden Era Online Slot
Golden Era is straightforward to get started with. Enter the game and hit the spin button to begin. Land three or more symbols that are identical to start winning instant cash prizes. There is the chance to win greater rewards whenever the wild game logo replaces lower value symbols. The scatter is represented by an old clapperboard. Land at least three in any position on the reels to join the money-spinning excitement in the Double Feature Bonus Special.
Golden Era Video Slot Rules and Stats
The game has been constantly shown on laptops, tablets and smartphones since its release in 2015. It has a Return To Player rate of 95.56% and a medium variance which could lead to some memorable money-winning performances. The fifteen paylines can be customised to make your adventure along the red carpet even more exciting. Coin size can range from 0.01 to 0.20 and you can use between one and twenty coins on an active payline. Playing at a maximum wagering limit might even help you to win the amazing 106,000 jackpot.
Special Features in Golden Era Slot Game
Back in the Good Old Days before television and the internet, everyone had to rely on cinema trips for their entertainment. Consequently, everyone was as eager to watch the B movies as the main films.
In Golden Era, you can have the same sort of fun every time you land three or more clapperboards and enter the Double Feature Bonus Special. You have the luxury of choosing the Main Event or the Side Game. In the Main Event you'll receive twelve free spins and enjoy the company of a celebrated screen couple from Hollywood's Golden Era. Perhaps the world famous Fred Astaire and Ginger Rogers. Just give them a quick Google if you've never heard of them, they were huge.
The feature begins with Fred in his bow tie and tuxedo on the entire first reel and Ginger in her best red satin gown on the fifth. As each one of your free spins is played out, the wandering reels prompt Fred and Ginger to advance by a single reel until they collide in the third and enjoy a romantic embrace. Our screen duo then twirl away to their starting positions to repeat their Hollywood performance until your spins have expired.
When it's time to have some fun in the Side Game, you're transported to another screen where you'll find ten film posters. Select them one at a time to find out the thrilling random cash prizes hidden behind them. The feature ends when there are no more left or if you discover a rotten tomato.
Golden Era Summary
If you want a relaxing game with entertaining features and exciting cash prizes, give Golden Era a try. It's great escapist fun with a touch of exciting Hollywood glamour. Whether you're new to playing slots online or have bags of experience, we've got games for everyone available here at Gaming Club! Perhaps Fortune Girl also comes from the Golden Era?