Dolphin Quest
Somewhere beyond the sea, or perhaps under the sea, a Dolphin Quest is waiting for me. Microgaming's nautical themed Dolphin Quest slot game is an engaging and fun title that'll immerse you under the sea without needing any scuba equipment, with some fantastic cash prizes on offer!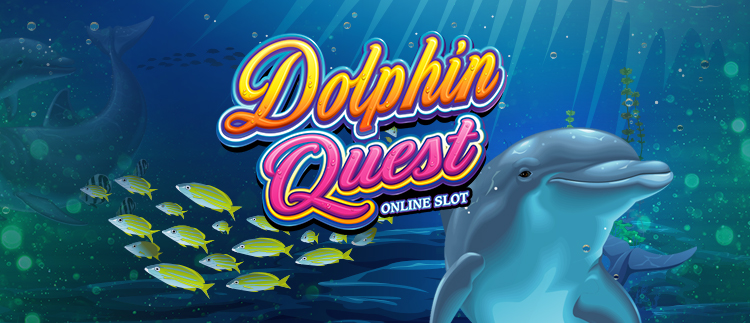 About Dolphin Quest Slot
Having a fun theme for a slot game is nothing new, but once again Microgaming pushes their creativity in the right direction with something fresh and different from the many commonly themed and classic slot games.
In terms of aesthetics, Dolphin Quest is clean and colourful. The background is filled with rich, blue hues, purple corals, and green seaweed. The play area also fits the theme, with minimal transparent reels that are separated by upward streaming bubbles. The soundtrack is bright and upbeat with a Caribbean-inspired sound that doesn't get old too fast.
As with many of Microgaming's online slot games, the animations in Dolphin Quest don't disappoint. Schools of fish will swim about and all the creatures of the sea have their own little animations that don't distract too much but add some satisfaction whenever a big payout happens.
How to Play Dolphin Quest Slot Game
Dolphin Quest is easy to pick up and play. Simply place a bet on the left side of the screen, then click the spin icon on the right side of the screen. For players new to online slot games, the objective is to line up a sequence of matching symbols across one of the game's paylines. Dolphin Quest has five reels containing four symbols each and is played using 50 paylines, so there are many opportunities to win.
The game's symbols include everything you'd expect to find in the depths of the sea: Octopus, Koi Fish, Pufferfish, Sea Turtle, Seahorse, a School of Fish, Stingray, Hermit Crab, Dolphin, and a Dolphin Couple along with the game's Scatter symbol and Wild symbol (the Dolphin Quest logo).
Dolphin Quest Online Slot Rules & Stats
There aren't any specific rules that would seem out of place in Dolphin Quest for players of other online slot games. Wilds substitute for any missing symbol to create a winning sequence, whereas scatters appear on the middle three reels and enable the game's bonus round.
Betting starts at 0.01 per spin and goes up to a maximum of 0.50 per spin. Bets can be increased by increasing the coin value, to a maximum of 250. Maximum earnings in the normal spins are 12,500 coins while 150,000 coins can be won in bonus rounds. Consequently, Dolphin Quest is a great game for players of any budget level and it offers great winning potential as well.
Special Features in Dolphin Quest
Dolphin Quest has a fantastic bonus feature which is activated whenever players land three or more scatter symbols in the middle 2nd, 3rd, and 4th reels. During the bonus round, three reels appear with a huge potential for winning big, even if your initial wager is relatively small.
Players can stop each reel to reveal their prize. Treasure found at the bottom of the sea can end up being quite valuable, with prizes beginning at 50 coins for winners and up to 3,000 coins for the most fortunate deep-sea explorers.
The best part of this bonus round is that it appears quite frequently. Even a casual playthrough will often yield a few bonus rounds since the scatter symbol comes up frequently.
Play Dolphin Quest
If you're looking for something refreshing that offers big winning potential through its bonus feature, give Dolphin Quest a go. Whether you're new to online slot gaming or have been playing for a while, Dolphin Quest is a fun and enjoyable game that could see you land a big win! If you would like to stick with the Marine theme, why not try out Fish Party!