City of Gold
Adventure and excitement await in Vela Gaming's classic-style City of Gold slot game. This casino game is based on the mythical search for El Dorado in the Aztec civilisation. You'll find that although the Spanish Empire didn't find their golden lake, there are real winnings in this City of Gold.
One of the game's greatest strengths but also perhaps a weakness is that it's very simple. If you're looking for a no-frills slot gaming experience without the complexities of multipliers and extra features common to other slot games, City of Gold surely won't disappoint. For those with a penchant for more complex gaming experiences, other games tend to deliver more.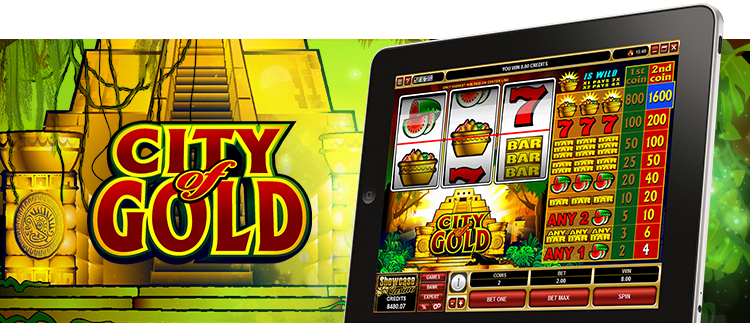 How to Play City of Gold
There isn't much to say about City of Gold for veteran spinners, but for the novice there are a few key things to know about playing City of Gold. Firstly, this game recognises "win both ways" along the lines, meaning that it doesn't matter whether your winning sequence goes left-to-right or vice versa, you'll still be eligible to win.
Players can choose to play along 1, 5, 10, 15, 20, 25, or 30 lines. Landing a winning sequence only counts if you're playing that particular line, so your odds greatly increase the more lines you choose to play. That's why many players opt for a higher number of lines so they don't miss out on winnings.
At least three matching symbols are needed to win, with a wide range of Aztec-themed symbols and icons being used throughout. Symbols that reward lower-end prizes are fairly common, but picture symbols are less frequent and award higher prizes. The treasure chest icon is quite rare, but it's likely to contain plenty of gold!
City of Gold Rules & Stats
Although playing City of Gold isn't as complex as some other popular slot games, there are still a few rules to bear in mind before (or while) playing.
Winning sequences count no matter which direction they're going, which can improve your odds quite a bit. Other games tend to only count sequences from left-to-right, for instance.
Wild symbols do appear and can help you by substituting an incorrect symbol in your sequence with a winning one. These are clearly shown as a stepped Aztec pyramid with "WILD" clearly displayed across the icon.
Currently, there are no published paytables for City of Gold, which means that it's difficult to know exactly how well the game pays out. A casual playthrough, however, yields regular winnings, especially when played with a higher number of lines and across the lower-paying symbols.
Special Features in City of Gold
City of Gold uses a Wild symbol to substitute in lieu of an incorrect symbol, thereby completing the winning sequence. Aside from this, there are no other noteworthy features. For some players, this is seen as an advantage. Perhaps there's less complexity and therefore less of a feeling of missed opportunity from maximising bonus features. On the other hand, some players may find that the lack of bonus rounds and other such features is a drawback.
A lack of special features helps to make City of Gold a game that's easy to pick up and play. Multipliers and bonus rounds add variety to many games, but sometimes a minimalistic experience with colourful Aztec-inspired artwork is enough of a diversion without requiring any advanced knowledge of slot games. For this reason, City of Gold is an ideal slot game for novice and casual players, but anyone is welcome to play.