Cashapillar Slot Game
Some casino slot games aim for immersive themes and imagery, others for authentic, classic slot gaming experiences, while others are just plain fun and take a less serious approach. Cashapillar clearly aims for the third category, if you haven't already noticed from the silly name.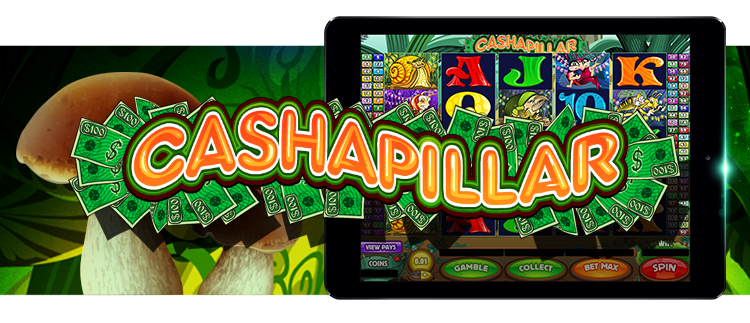 About Cashapillar
Filled with cute, animated insects, Cashapillar is far from being a realistic, immersive experience. Rather, it aims to please players of all types and has the ability to turn frowns upside down, particularly where winnings are concerned. Although Cashapillar appears less serious than most other online casino slot games, its winning potential is no laughing matter. Cashapillar's theme (and its namesake) is a birthday party for the elusive caterpillar who has invited all of his friends to come and party with him. Oddly enough, the gifts for the caterpillar, cash, is given to those fortunate enough to hit the game's large jackpots. What's a little caterpillar going to do with heaps of cash, anyway? There's no background worth noting nor is there any music, but Cashapillar's colourful and vibrant critters both creepy and crawly look fantastic. Sound effects aren't too distracting, but some upbeat snazzy jazz notes play for bigger winning sequences and jackpots.
How to Play Cashapillar
Cashapillar is quite easy for anyone to simply pick up and play. It uses five rows across five reels, and with up to 100 paylines, the opportunities for winning are as varied as players want them to be. Simply place bets, spin, and win. The following symbols are used in Cashapillar: 10, J, Q, K, A, Wasps, Ladybirds, Snails, and Beetles. The latter symbols pay out more than the high cards from poker. Sequences containing similar symbols across a payline result in winnings according to the game's payout table. There are few options available to players, but that's all right. Sometimes simplicity is a great advantage since players can focus on the game and no extraneous bells and whistles common to many modern online casino slot games. Bets start at a clean, round 1.00 up to a maximum of 100.00. This makes Cashapillar playable by players of fairly low to fairly high budgets. Free play is available for those willing to give it a few spins before entering real Cashapillar play rounds.
Cashapillar Rules & Stats
There are no specific rules in Cashapillar that players need to know about. Players with even a modest amount of slot game experience will feel right at home in Cashapillar thanks to its easy to understand and intuitive approach that puts players right into the action of betting and spinning.
Special Features
Cashapillar's wild symbol is represented by the Cashapillar logo. This symbol takes the place of a symbol to complete winning sequences. The only exception to this is the Cake, which cannot be substituted by the Cashapillar. Winning sequences containing the Cashapillar are doubled. The Cashapillar symbol often appears in a large stack, which can seriously boost winning potential thanks to the game's 100 paylines. Even caterpillars celebrate birthday parties with cake, and the Cake symbol in Cashapillar represents the bonus scatter symbol. Anytime three or more Cakes appear on the reels, a bonus round of free spins is activated whereby winnings are multiplied by 3x. Furthermore, Cashapillar symbols in winning sequences boost winnings by 6x. The free spin bonus round can be triggered again and again by players.
Play Cashapillar
Cashapillar is a fun, silly, but altogether high potential slot game that can keep players engaged spin after spin whilst winning big. If you want an entertaining game to spin some reels on, with the chance to win some serious cash prizes, then Cashapillar is certainly worth trying out.