Burning Desire Online Slot Game
Microgaming's Burning Desire is sure to kindle a fire of nostalgia and classic casino gaming thanks to its no-frills features, payouts, and aesthetics. For a pure gaming experience of simply betting, spinning, and winning, Burning Desire is hard to beat.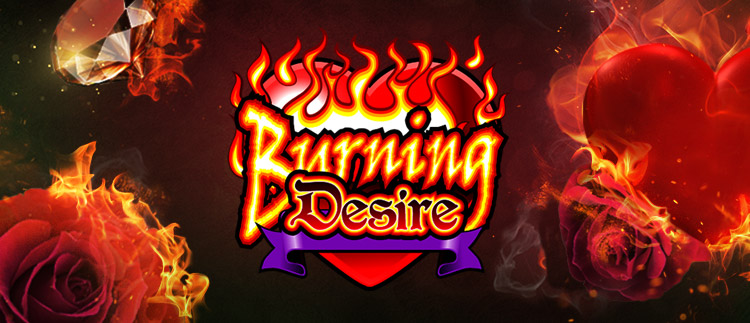 About Burning Desire
Burning Desire goes back to the basics with symbols that are familiar to everyone, including 7's, Bells, Roses, high card icons (9, 10, J, Q, K, A), Diamonds, and Bars. There are also two unique icons, the Gold Coin and the Burning Desire logo. In terms of aesthetics, Burning Desire keeps things uncomplicated with a pared back interface that uses a simple colour palette with no superfluous imagery or animations, and the symbol graphics are straightforward in design. This makes the game feel quite classic in appearance for players who want to focus on the core of the slot gaming experience.
How to Play Burning Desire
Playing Burning Desire is easy. Thanks to its straightforward, old-fashioned Vegas casino style, Burning Desire can be picked up by novices and seasoned spinners alike. There are 243 ways to win across three rows on five reels. This makes it a standard slot game with payline customisation on par with most other popular slot games on the market. Once players have placed their bets, simply spin the reels and reveal any winning sequences to be awarded a payout. The game flashes winning combinations so you can see which paylines paid out immediately after spinning. There isn't much more to say; Burning Desire is - perhaps intentionally so - a game with little complexity. This means you won't need to fumble about looking for customisation or clarification whilst playing and instead, players can simply jump into the excitement of pure slot gaming. Betting starts at only 0.25 coins and goes all the way up to 500, which makes this game accessible for players of all budgets. With 243 ways to win and a myriad of high payout possibilities, Burning Desire can be enjoyed casually but also for those fortunate enough to hit the jackpot.
Burning Desire Rules & Stats
There are no rules in Burning Desire that aren't common to most other slot games. Players simply enter the game, place their bets, and spin. Furthermore, the game's bonus features are standard and require little explanation.
There is a maximum jackpot of 30,000 coins during standard play and up to 90,000 coins during free play rounds. With bets of up to 500 coins, a jackpot can yield big winnings indeed.
Special Features
There are two special features in Burning Desire, both of which should be standard to most players. The wild symbol is represented by the Burning Desire logo, which substitutes itself to complete any winning sequence. These symbols only appear on the second and fourth reels. The Gold Coin symbol functions as the game's scatter. At least three scatters are required to trigger the game's Free Spins bonus round. During this round, all payouts are tripled. One nice touch that adds to the game's winning potential is that these free spins can be repeated if three or more scatters are revealed during the Free Spins round. All additional scatters are also carried forward into the Free Spins round as well. These simple bonus features, although standard, are a great way to maximise winning potential without making the game too complex.
Play Burning Desire
Burning Desire is all-around an easy game to pick up and play any time you feel like it. For those looking for a straightforward game reminiscent of 90s video slot machines, Burning Desire is an authentic slot experience that is great fun and can offer serious rewards.