Bar Bar Black Sheep Online Slot
What do you get when you combine a classic nursery rhyme with online slot gaming? A lighthearted slot game called Bar Bar Black Sheep that's great fun to play and doesn't take itself too seriously, yet still offers seriously good winning potential.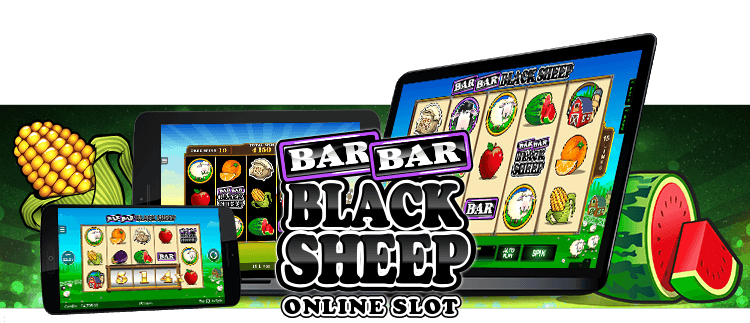 About Bar Bar Black Sheep
You wouldn't be alone in thinking that the title to Microgaming's Bar Bar Black Sheep is a typo, but it's actually a clever play on words referring to the Bar symbol common in many slot games. Such a jovial style fits well in this exciting new slot game, replete with silly cartoon farm animals and scenery as the backdrop to five colourful reels featuring the sheep known to all from children's nursery rhymes.
The Bar Bar Black Sheep Slot Game is simple to get into, and this simplicity feels at home in this easy-to-play, casual slot game.
In line with the scenery is an upbeat, never too annoying take on the famous "Baa, baa, black sheep, have you any wool? Yes sir, yes sir, three bags full!" As you may expect, the symbols used also fit with the theme and include sheep, bars, a barn, bags of and the elusive Bar Bar Black Sheep Wild symbol.
What's so refreshing is that many of the more common slot game symbols such as 7s, cherries, and low cards from a standard 52-card deck have been replaced with ears of corn and other objects you'd expect to find on a sheep farm.
How to Play Bar Bar Black Sheep
The Bar Bar Black Sheep Slot Game uses five reels with three symbols each, making for a total of 15 possible paylines. Bets start at only 0.20 credits to a maximum of 5.00 credits, with a maximum of 3 coins making up maximum bets of 15.00 credits total. Thus, Bar Bar Black Sheep is a great entry-level slot game for lower budget players looking for ways to win big with smaller bets. It's also a nice change of pace for more seasoned slot game players looking to enjoy the colourful scenery and imagery used in-game.
The game performs well on desktop, mobile, and tablet, but it seems that it's been optimised to play remarkably well on smaller devices, where the screen's real estate is well occupied by the reels. Although the game lacks many of the bonus features common in many other slot games, its simplicity is key for casual, on-the-go players looking for some no-frills entertainment.
Bar Bar Black Sheep Rules & Stats
There are no particular rules in Bar Bar Black Sheep that differ from those commonly found in other online slot games. Players simply place bets, select paylines, and spin the reels. Symbols matching in a sequence from left to right along eligible paylines yield rewards according to the payout table.
The wild symbol is the Bar Bar Black Sheep, who only appears on the third (middle) reel. This symbol substitutes itself to complete sequences with other symbols.
Special Features in Bar Bar Black Sheep
There are two great special features in Bar Bar Black Sheep, the free spins round and the rare but rewarding Jackpot for those fortunate enough to land a specific sequence.
Free spins appear thanks to scatter symbols, the bags of wool. Three or more bags of wool that appear on a spin will give you free spins, whereby the Bar Bar Black Sheep becomes a 3x multiplier for any payline during the free spin round.
The highest Jackpot available to players is the combination of Single Bar, Single Bar, Bar Bar Black Sheep (get it? Bar, Bar, Black Sheep?). With this combination from left to right, paired with a random multiplier, 999x your line bet may be paid out to the more fortunate players.